Once Upon a Time Access Map
Scroll down for directions.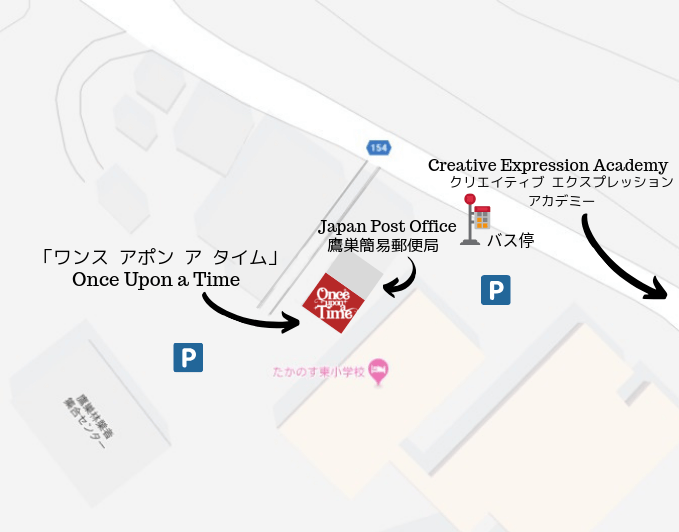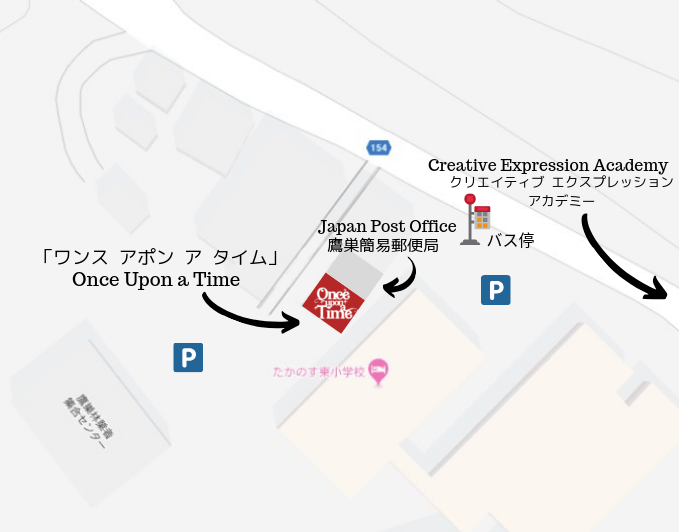 Once Upon a Time                          Address: 1120 Chikusachō Takanosu  Shisō-shi, Hyōgo-ken 671-3212
Directions to Once Upon a Time:
By Car
Follow the 2nd map above (google map), or drive to the following address:
1120 Chikusachō Takanosu, Shisō-shi, Hyōgo-ken 671-3212
Parking is available directly next to Once Upon a Time, and overflow parking is available within a 1 min. walk (see the P's on the map for parking locations).
By Bus (last updated: August 2019)
There is a Shinki bus service available four times a week, on Mondays, Tuesdays, Wednesdays, and Fridays. Please check the schedule (see here) and station sign (see here) carefully, since the bus does not come frequently! The bus station near Once Upon a Time is Takanosu Higashi Gakkou (たかのす東学校). The fare from Yamasaki (山崎) to Takanosu Higashi Gakkou is 200 yen for adult fare, and 100 yen for children (ages 1 - primary school students), one-way. From the bus station, it is about a 1 min. walk to Once Upon a Time. The bus can also be used for reaching the Creative Expression Academy, at the next nearest bus station called Doi (土井). For additional information about the walking route from the Creative Expression Academy to Once Upon a Time, please see (here).
By Taxi (last updated: Jan. 2019)
Taxis are available through the Chikusa Taxi service (Tel: 0790-76-2062). Since there is currently just one taxi that services our rural location, you may need to make a reservation. Taxi services may also be unavailable on some days, so please check with the driver before using taxi services!