(Pictured: a Mr. Lincoln rose in our garden)
I grew up surrounded by roses, and when my husband and I moved to the country, I knew that I wanted to grow them. Roses are my favorite flower because of their beauty, scent, and symbolism.
I love watching roses bloom, and appreciate that they are a very hardy plant. Even in Japan's climate of sometimes extreme weather, our roses have continued to be healthy and bloom continuously throughout the months.
Yet, it seems wasteful that occasionally the heavy rain causes blooms to wilt. After this happened a few times, I began to think about ways that I could make the most of these favored flowers, even if preserving them indefinitely is impossible.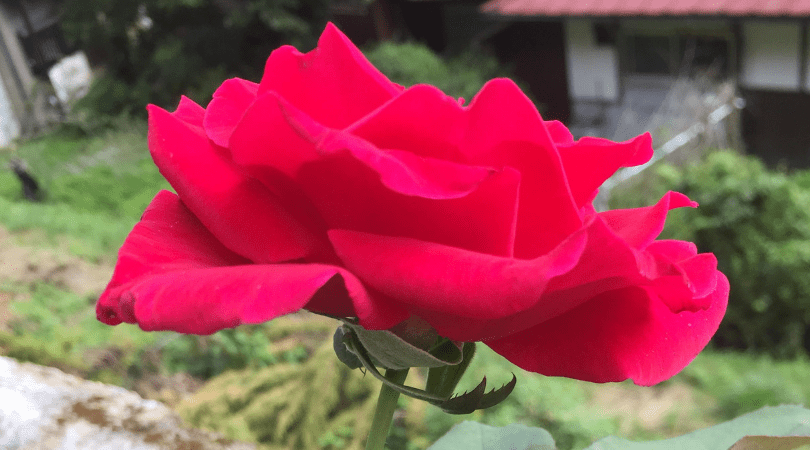 As of this time, we have 8 rose plants: a Mr. Lincoln, a Don Juan, and 6 miniature roses of various different colors, including red, pink, and creamy yellow. Larger roses are a challenge to find at home and garden centers in Japan, so we ordered our two large-variety plants from a rose nursery.
We selected the Mr. Lincoln because it is known for being one of the most powerfully fragrant roses, and the Don Juan for its climbing abilities (we're training it to weave through the openings in a stone wall), and the rich color of its flowers.
Yet, roses are known not only for their blooms, but also have many uses.
For example, roses can be used in making:
– scented soaps and candles
– flavored lemonade or tea
– flavored jelly
– linen or hair-freshening spray
– bath oils
– sachet potpourri
– perfumed cosmetics and toiletries
– facial toner
..and, added as flavoring to recipes
For most of the above, you first have to create rose water, oil, or essence. I decided to start by trying the easiest method: rose water. Rose water is less potent than rose oil or essence, but still provides many uses.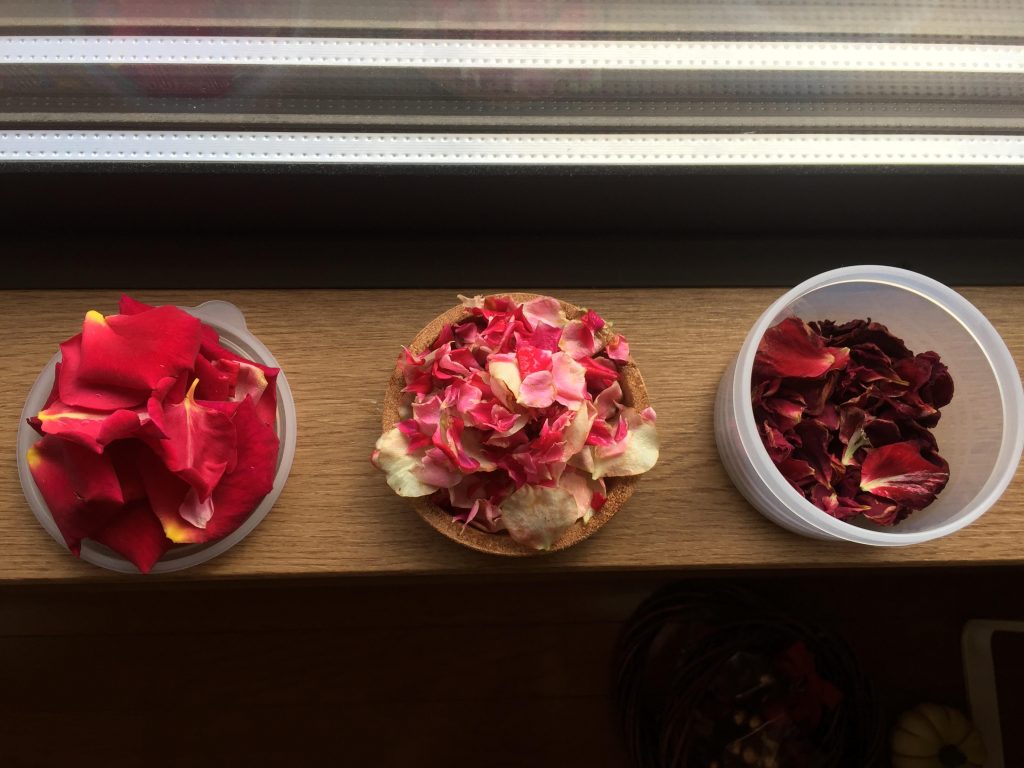 To begin, I collected (organic, chemical-free) rose petals from the garden. If you are using store bought roses, be careful to check that they are truly chemical-free, because otherwise you do not know what you will be consuming, putting on your skin, or otherwise exposing yourself to by using the petals in rose water or another recipe.
I also checked to make sure there were no bugs present on the petals, and if there was any dirt, I washed them gently. Pictured are petals sitting in containers on my windowsill.
Some of the petals were picked earlier than others, which is why they are all at various stages of freshness, with some already dried. Picking roses early in the morning will yield the most fragrant scent, as the roses tend to be more hydrated in the early hours.
However, even dried petals can be used to make rose water. The scent of rose water will also vary depending on what roses you choose to use.. the Mr. Lincoln petals are my personal favorite.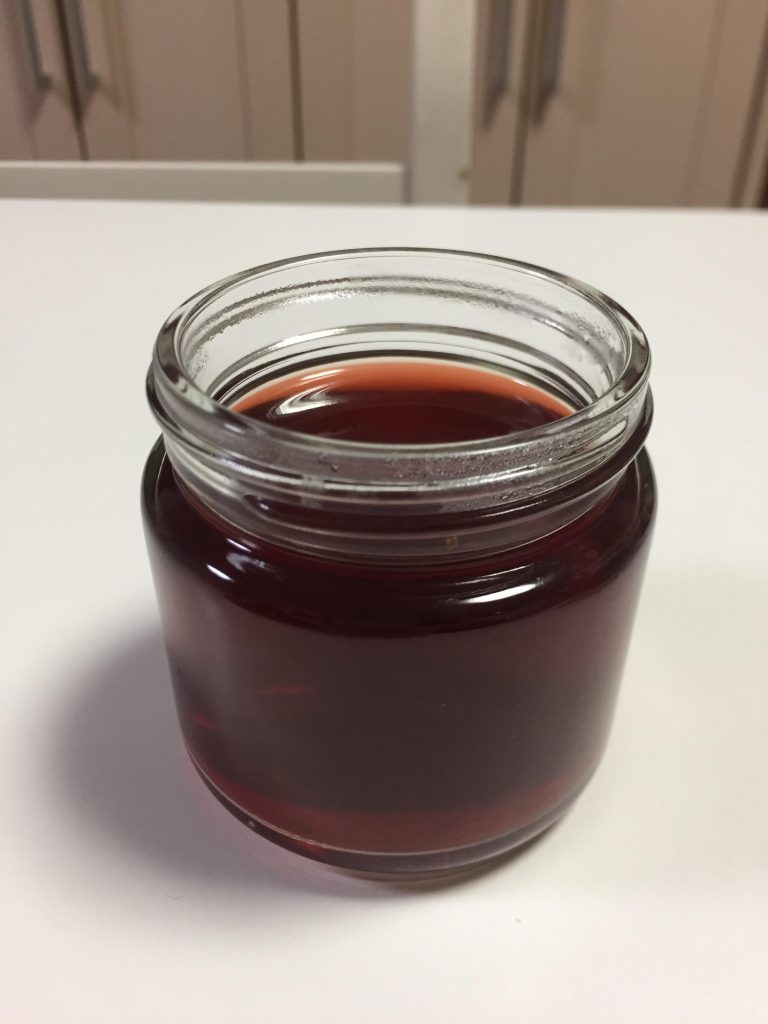 There are slightly different ways to make rose water, and people have preferences about the ratio of water to petals. I decided to experiment, and see what worked out best.
Please also note that the following is a simmering method. Distillation methods of creating rose water are more time-consuming and complex, but the resulting liquid can last longer.
After collecting a few handfuls of petals, I put about 1.5 cups of water in a saucepan, and brought it to boiling. I then added all of the petals I had collected into the saucepan, and stirred with wooden chopsticks.
This process can take more or less time, depending on the ratio of petals to water, and how strong you want to make the rose water- but for me it took about 5-8 minutes.
I kept stirring until the water turned a warm red, and the petals had lost most of their coloration.
After the mixture became strong enough, I turned off the heat, and poured the mixture from the saucepan into a clean glass jar, using a small sieve. All of the petals remained in the sieve, and I tried to remove as much water as possible from the petals before discarding them in a trash bin.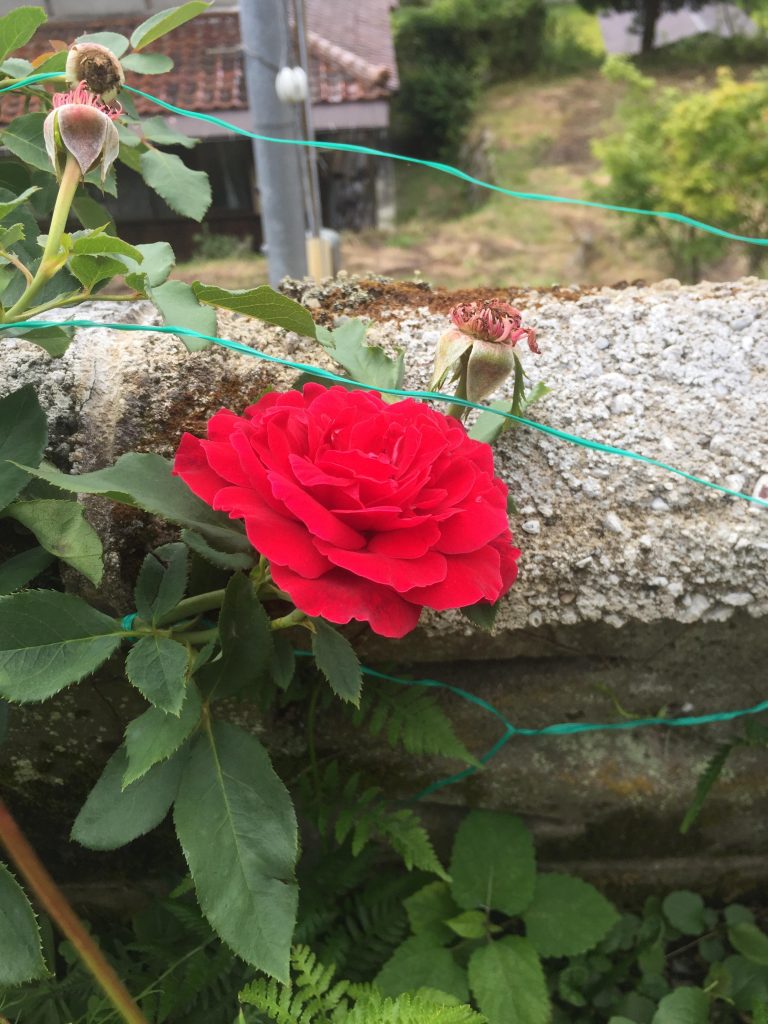 The result of the above process was wonderfully scented rose water! After cooling, I put a lid on the jar, and put it in the refrigerator (if you keep it refrigerated, it can last about a month).
Later, I stirred some of the liquid into my hair conditioner, which turned it pink, and added an extra scent!
Roses also have medicinal qualities, including being anti-inflammatory, and containing vitamins and minerals.
(See left – a Don Juan rose blooms in our garden)
Next, I'm looking forward to making rose oil and rose essence, and seeing what other uses we can make of this plant that is as useful as it is decorative!
Please see a simplified version of the above recipe and steps, below.. and don't forget to leave a comment if you try it!
Rose Water Recipe (Simmering Method) :
– a few handfuls of organic (chemical-free) rose petals
– water (about 1.5 cups)
– a sterile glass jar with a lid
– a small sieve
– a saucepan
Steps: 
Select organic rose petals, and wash them to remove any dirt and bugs.
Boil the petals in water in a saucepan, stirring with a wooden utensil (chopsticks/a spoon) to avoid burning.
Pour the entire mixture into a small sieve, over a clean glass jar.
Try to get as much water out of the rose petals as possible, then dispose of them.
Allow the mixture in the jar to cool, then store the jar with a lid for about 1 month, refrigerated.
Do you have any favorite recipes that use roses or another flower?
Please leave a comment below!