Those who know me well know that I like "doing all the things", maintaining a healthy life, being organized, and making the most out of time.
Since Masashi and I run our own business, finding a balance between work and home is absolutely essential! We want to create and maintain a home culture based on our values and beliefs – and we believe that with the right amount of planning, any family can choose to do this!
The way we do this is through creating a routine that works.
Do you desire to create a routine that will keep your home organized? If so, let's get started!
Please note: we are a member of the Amazon Affiliates program, and may receive a small commission if you purchase products through Amazon links provided in this post.
---
Getting Ready
You might feel that February is a bit late in the year to plan your routine.. but, I disagree! In February, calendars and planners are priced down, and you probably have a pretty good idea of what goals you want to set for the year, versus which you're more likely to toss (like any abandoned New Year's resolutions).
Before creating your family's routine, it is helpful to gather some tools to make the process easier.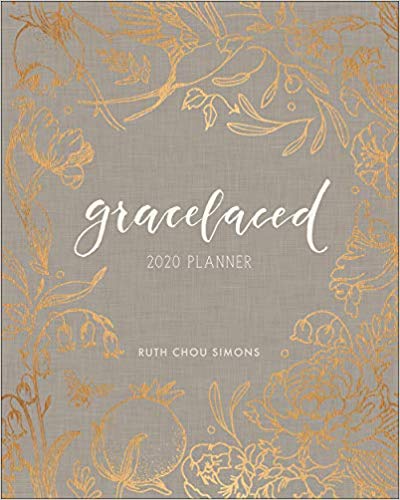 Personally, I like to use a planner book for keeping track of home management, meal planning, work, and meetings.
My current planner of choice is the GraceLaced 2020 planner by Ruth Chou Simons.
This planner features beautiful illustrations, includes both monthly and weekly calendar layouts, and has sections for notes, to do lists, gratitude lists, and more.
I also use a weekly routine printout as a guideline that shows the days organized in half-hour increments.
Rather than printing out a new routine every week, I keep a single copy in a clear file inside of my planner to glance at when I need a guideline for how we can best use our time.
Other day planners recommended to me include the Tullofa 2020 planner and the Kate Spade planner.
Once you have gathered any necessary supplies, it is helpful to consider family logistics: when will you go grocery shopping? Do meal planning? Go to the dentist? Laundry? Vacuum?
Make notes of any important meetings, appointments, or other schedule concerns. If you have goals, write out specific steps for how you are going to make them happen over the next few months.
---
Night Prep
Now it's time to create your routine!
Although you might think of a routine as starting in the morning, I believe that preparation the night before is so helpful for the following day to run smoothly.
For example, every night, I make sure to the do the following prep:
Food: usually our meals are planned in advance, so it's easy to prep at night. I put any meat we will use into the fridge or on the counter (depending on how frozen it is). I may also do some prep such as boiling eggs.
Clothing: I pick out my outfit for the next day, and lay it out on the vanity in our bedroom.
Laundry: If I'm going to do the laundry the following day, I ask my husband to put all of his dirty clothes into our bedroom hamper.
Schedule: I check our day planner and see what is on the agenda for the following day. If we have any meetings, I set alarms on my phone. I also make sure that all of my regular alarms are set.
I also try to multitask as much as possible. For example, while my husband is doing the dishes in the evening, I can boil eggs with our stove timer set (the stove automatically turns off after the time is up). Masashi can make sure that the water doesn't boil over, while I can do other prep.
Before writing out your schedule, first try to think through what you can accomplish the night before, and make a note of it to add to the evening later. Often you can save a lot of time, simply through a little planning!
---
Productive Mornings
It's been said that "the early bird catches the worm".. but I am not a morning person.
It's true that there are big benefits to productive mornings. The morning sets the tone for the rest of the day! However, you don't have to wake up before dawn to start the day efficiently.
Before scheduling the morning, it can be helpful to decide on some goals. Even if they are few, pick things that you know you can accomplish. Don't pick projects that you are not likely to finish.
For example, each morning I often do the following:
Get dressed
Hang the blankets & top sheet on the upstairs landing's banister (we do not make the bed.. Japan often has high-humidity, so we simply air everything out instead)
If it's a laundry day, get a load going in the washer as soon as possible
Make & eat breakfast
Wash down the tables
Devotional (Bible reading & prayer)
Do hair & makeup
Water the indoor & front patio plants
If the laundry finished, hang up the first load and start a second
Vacuum upstairs or downstairs, if it's a vacuuming day
If we will have a slow cooker dinner, toss the ingredients in the machine and set it
& etc.
After I have completed the tasks that are easy to finish, I might start on projects that I am either less likely to complete, or that are ongoing.. for example, writing, preparing lyric sheets, replying to messages, updating our business's web pages, and so on.
Meanwhile, Masashi (who is a morning person) takes care of the breakfast dishes, online coaching and consulting, answering e-mails from clients, teaching private voice lessons in our studio, making phone calls, and any necessary administration.
Once you know the main tasks you would like to accomplish as well as any ongoing projects you would like to work on, you can add these to your routine and adjust them into time increments.
Below is an example schedule that you can use, or adjust based on when you need to get up for work, your children's school / homeschool schedule, etc. Also, you may find it better for your spouse and children to wake up at different times.
Example morning:
7 am: wake up 
7 am – 8 am: devotional, light exercise, laundry, etc.
8 am: breakfast
8:30 am – 11:45 am: hair & makeup, housework, & ongoing tasks
---
Focused Afternoons
Afternoons tend to be our most focused time of the day, and are usually when I try to tackle whatever is on my to-do list. For the home, this might include meal planning, grocery shopping, making lunch, budgeting, and taking down the laundry. I also spend some time outdoors, and/or exercise.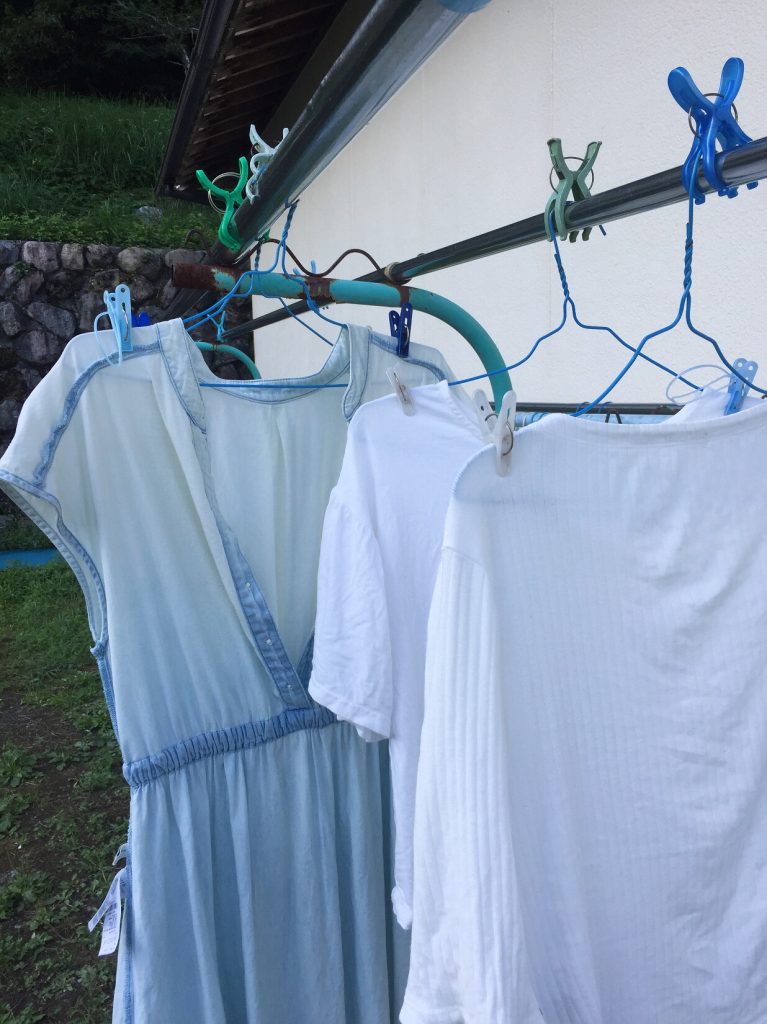 For work, this might include teaching, practicing a duet, lesson planning, grading, designing, opening our community space, and so on.
I also try to take time to evaluate what needs to be done the following day.
Your day might look completely different depending on whether you stay at home, work full or part-time outside of the home, run your own business, have children, or any combination of the above.
However, it can be helpful to designate tasks to the afternoon that require sustained focus.
While mornings are more about setting a pleasant tone for the day, afternoons are for getting things done. In addition, having reasonable expectations about how much you can accomplish in a day, as well as start and end times for tasks, is helpful.
For an example schedule, see below. Note: although I've put down dinner at 5:30 pm, this varies in our family and we will sometimes eat up to an hour later.
Example afternoon:
12 pm: lunch
12:30 pm – 3 pm: focused tasks
3 pm: snack / break
3:15 pm – 5 pm: focused tasks
5:30 pm: dinner
---
Creative Evenings
In our family, evenings are our most laid-back, creative part of the day. After dinner, Masashi does the dishes while I set the bed, put away the laundry, and do any prep for the following day.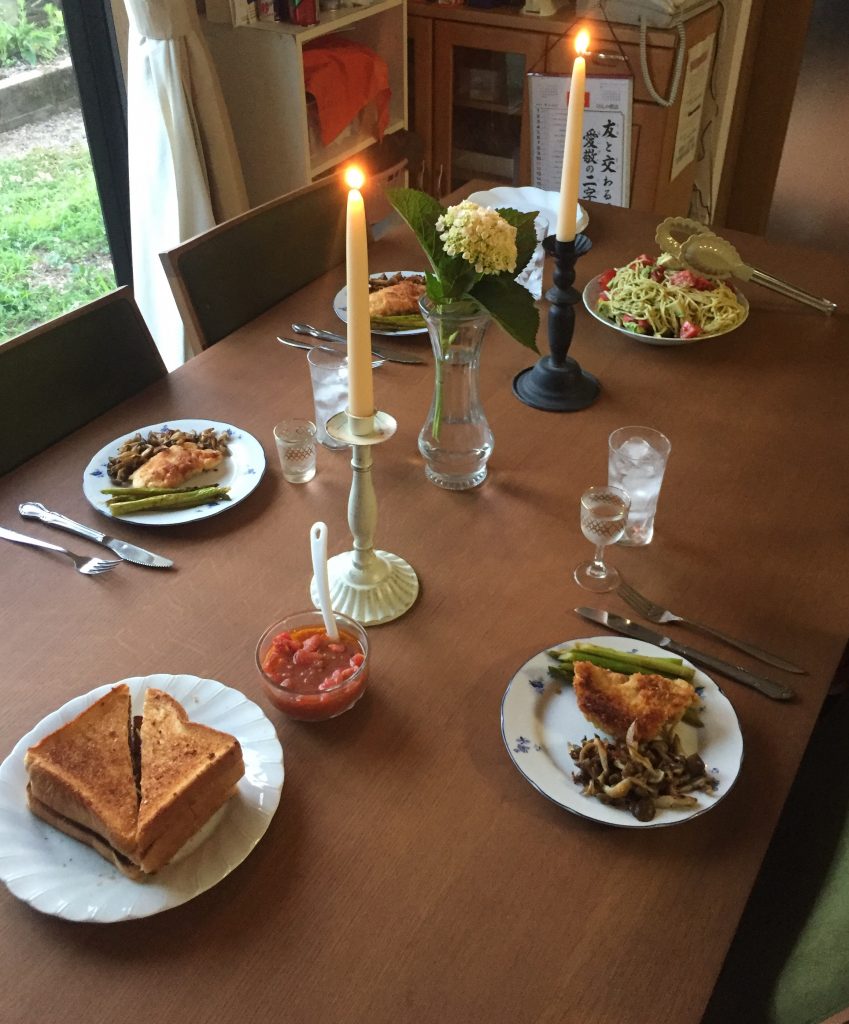 After these chores are finished, it's time to have fun!
Our evening activities frequently include reading, watching up to an hour of Netflix or YouTube, or journaling.
This is often when I work on any creative projects, such as painting an interior design project.
The key to a restful evening is to finish all housework and prep first!
If you tackle these early on, you will find yourself with much more free time than you might expect.
For an example schedule, see below.
Example evening:
6 pm: prep for the next day
6:30 pm – 7:30 pm: creative tasks
7:30 pm: bath / shower
8 pm – 11 pm: creative tasks / relax
11 pm: sleep
---
Of course, the routine examples shared in this post are only rough guidelines!
If you have children, you may need to add in feedings, diaper changes, bedtimes, bath-times, homework study, independent playtime, family playtime, and etc. For routine examples for families with children, see here.
It is important to find what works for your family. Set aside time every month to plan together as a family about your goals, and the things you want to accomplish.. as well as your limitations.
What are you willing (or not willing) to sacrifice.. and are there any areas where you are taking on too much? What boundaries will you create to protect your family? We will share tips on creating boundaries in an upcoming blog post!
---
We would love to hear about your family routine.
Feel free to share by leaving a comment below!
Photo credits: (c) theharunafamily.com