One thing that I have become passionate about during the last few years is interior design and decor.
I had the opportunity to work on several renovation / interior design projects for our business locations (which I will hopefully get to posting about at some point!), and now that those are completed, I've turned my creative energy toward redecorating and redesigning our home.
In this post, I will be sharing about one of the smaller projects I tackled, which was the tiny upstairs bathroom! This was a neat project because so many bathrooms in Japan are really just a closet-like space with a toilet. Making such a compact space look fresh was a lot of fun!
But first, a little background about our home..
---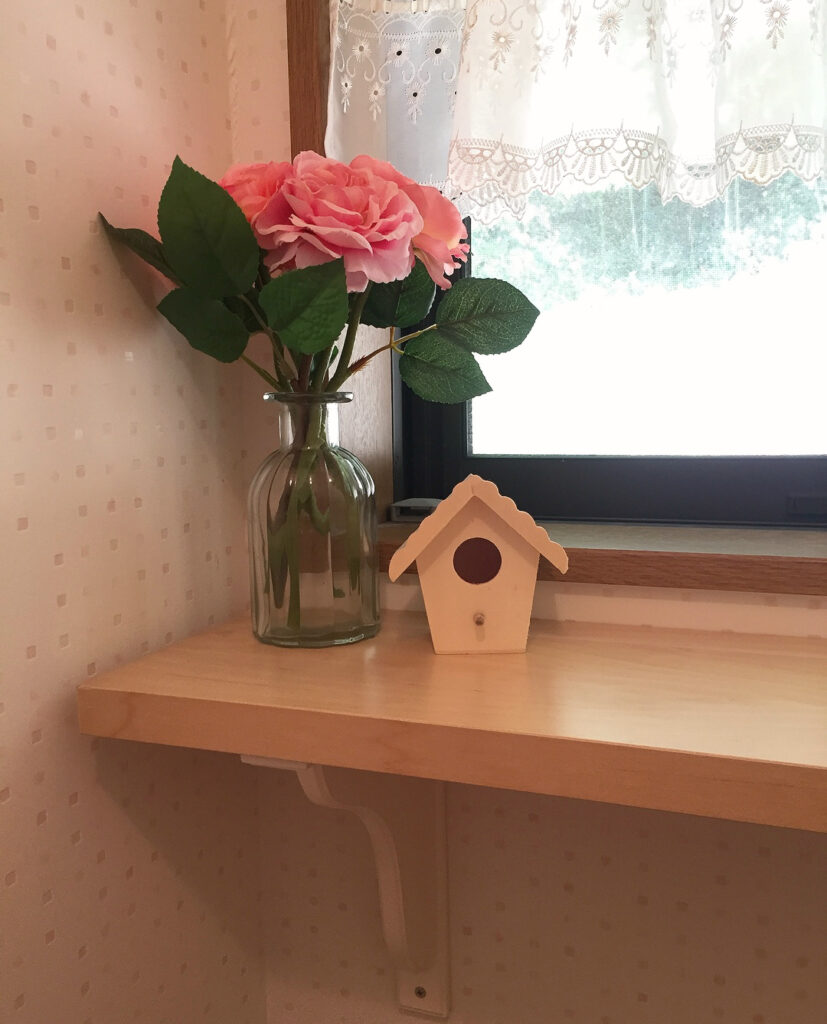 In Japan, many families in the countryside live in multigenerational houses, often with grandparents, parents, and children all under one roof!
Our home is similar in that we share some common spaces with Masashi's widowed mother (such as the bath / laundry room), but she also has her own space next door. Our two homes are connected by a wood patio.
One of the great things about living together on a multigenerational property is that there is a built-in support system (free childcare, assistance for the elderly, etc.), and it is possible for younger generations to save money, as they can just pay annual land taxes, rather than having to reinvest in purchasing a new home.
However, there is still a LOT of maintenance to be done when living in the country, and after a while, even newer homes can start looking tired if they have been used by multiple generations.
In fact, there are a lot of homes in the countryside that have been abandoned entirely due to their need for renovation – turning some formerly lovely, quintessential villages into ghost towns.
Thankfully, some construction companies are realizing the wastefulness of this, and renovation is becoming more popular. However, there is also plenty you can do to refresh your home on a budget without hiring expensive contracting!
Which brings us to..
---
Our Upstairs Bathroom Remodel
Our upstairs bathroom is a narrow space that includes a toilet with a built-in sink. The toilet reuses the water from the sink, reducing water waste and eliminating the need for extra plumbing!
By the way – Japanese toilets are pretty amazing! They often feature heated toilet seats (you can adjust the temperature to be warmer in the winter, or turn it off completely in the summer), and bidets.
Here is a before picture: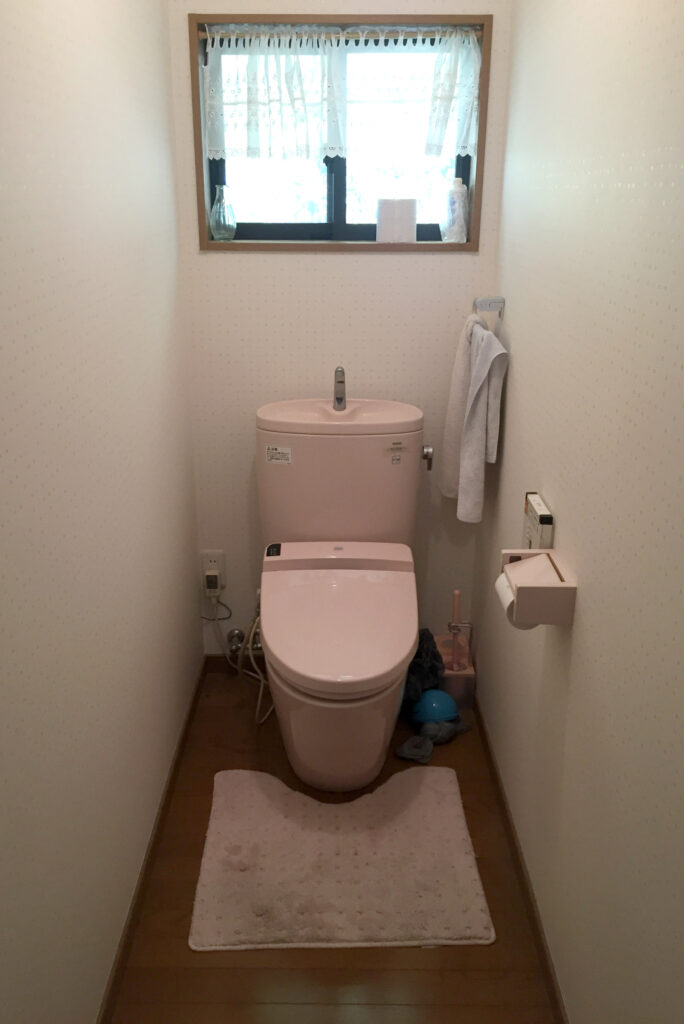 A problem with the space was that there was no place for storage, and overall it just felt "dull" and boring.
Yet, since the room is so small, it was a challenge to update because I felt that there was not a whole lot that could be changed without making it feel cluttered.
I decided to focus on two goals: to add more color, and to increase storage space without making the room feel too tight.. all on as small a budget as possible.
Here is the after picture!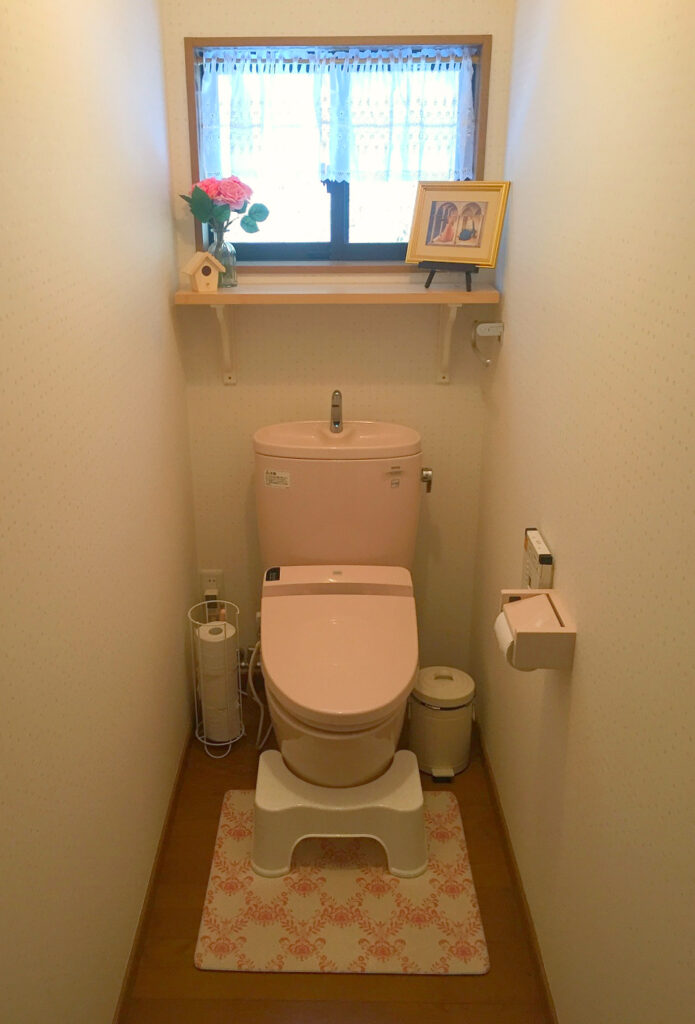 I did not make any changes to the wallpaper, but the color looks brighter in the photo above due to the time of day.. however, one thing I love is that adding more colorful accents to this room made it look less "sterile" and overall more cheerful.
We added a new trash can, toilet paper storage, and a floor mat from Nitori, one of my favorite (affordable) home decor stores. Finally, no more storing extra toilet paper on the window sill!!
I also purchased a foot stool online, since Masashi had sometimes been using old pickle jars for the same purpose.. which was definitely not aesthetically pleasing!
My favorite addition to the space is the shelf we bought from Ikea. It just adds so much to the room, and I love the design. It's very sturdy, too.
On the shelf I put a vase and fake flowers from the "dollar store" (100 yen shop) called Daiso. Not every piece of decor has to be expensive! I also added a tiny bird house I purchased online, and a picture and stand a friend bought for us from a museum.
The picture, which features the virgin Mary when the angel Gabriel told her she would give birth to the baby Jesus, is especially significant.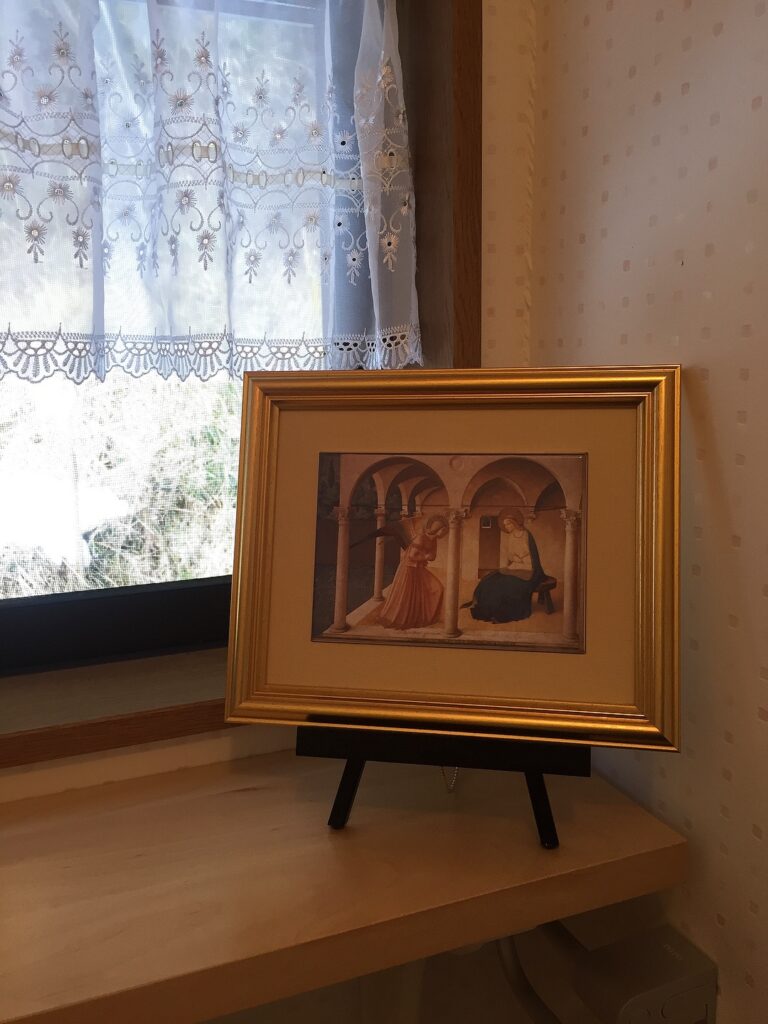 It was gifted by Masashi's friend, who had purchased the same artwork for himself and his wife when they were going through fertility issues. Shortly after purchasing it, they became pregnant with a baby girl after trying to conceive for three years.
The friend bought a copy of the same artwork for us due to our own losses, but didn't send it right away as they felt it might be too much pressure.
However, he suddenly felt the urge to send it to us in February 2020, two years after initially purchasing it for us..
It was a huge encouragement as we went through our own fertility issues, and I put it up in the bathroom because that is where I had taken so many negative pregnancy tests.
Four months later, our own miracle baby was conceived! Looking at that picture brought a lot of hope about God's power to do the miraculous, even when it seems impossible.
---
And that is our low-budget bathroom remodel! I look forward to sharing more about other spaces in our home in the future, including the now in-progress nursery project!
---
Have you remodeled a space in your home recently?
Feel free to leave a comment below!
Photo credits: (c) theharunafamily.com