At 39 weeks and 3 days of pregnancy, we are nearly to baby's due date!!
I am now officially on "maternity leave" from our home business, and trying to enjoy this time as much as possible while we wait for our son Jamie's arrival.
One of the projects that I've been looking forward to completing is the nursery!
---
Although at first our son will sleep in our room in a bassinet, we plan to later transition to a crib in the nursery.
In addition to a place to sleep, the room will be used as a location for diaper changes, breastfeeding, and play. It will also serve as a storage area for clothes, toys, baby carriers, changing supplies, and so on.
I wanted to give the nursery a classic, timeless feel.. as well as mostly gender neutral, and not too character-focused. I am personally not a fan of highly stimulating primary colors, or lots of cartoons.
Since we hope to have multiple children, I wanted to keep the need to redecorate to a minimum as well.
We also saw this room as a long-term investment, since a (hopefully) large family = a lot of time spent in the nursery!!
My goal was to create a room that felt calming and comfortable, for both me and baby!
---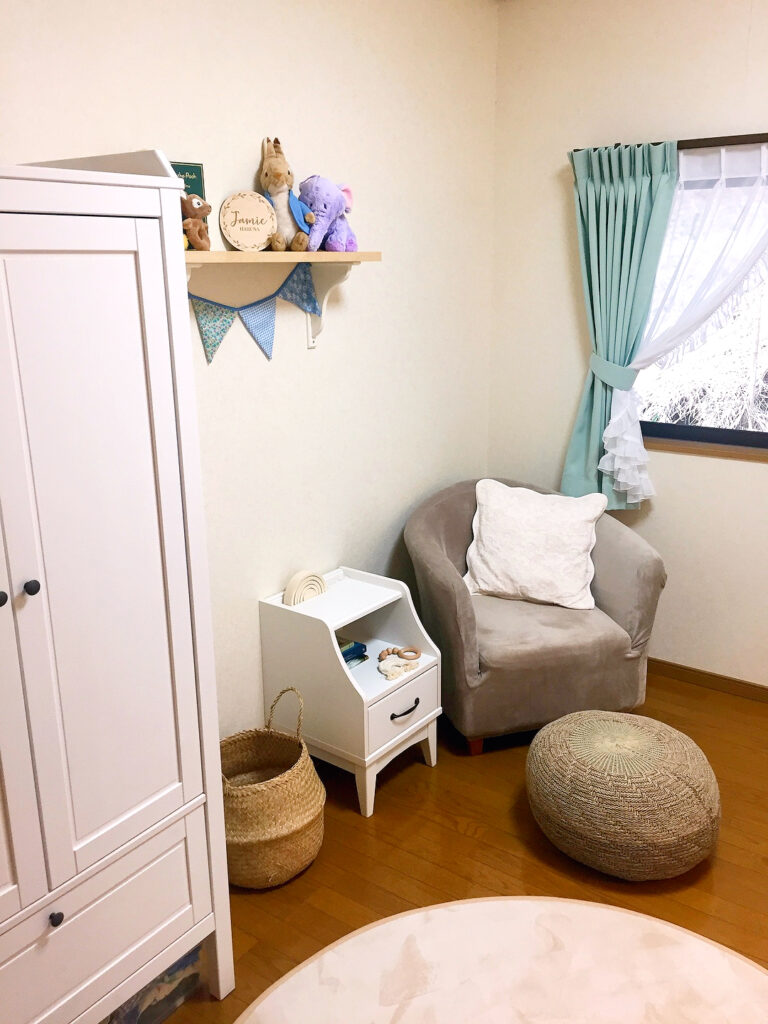 As a result, I decided to focus on natural accents such as wood, and colors such as white, earthy beige, blue, and sage.
The photo above is the left side of the room, which features our son's wardrobe, a toy basket, a chair for breastfeeding, and a side-table for mom (me!).
The chair used to belong to Masashi's sister, and a cheap new cover makes it look brand-new!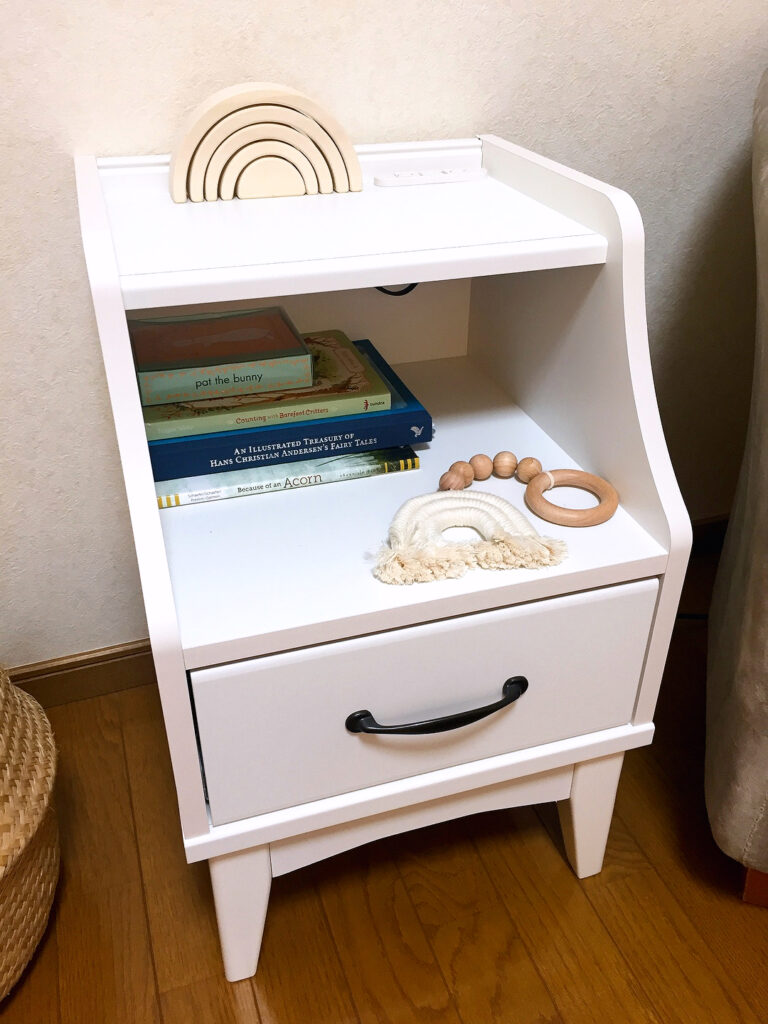 The side table (which we purchased off of Rakuten) can store bedtime stories, breastfeeding supplies, or even supply electricity to my laptop (it features two plugs on the top).
I purchased the beautiful rainbow blocks and teether because our son is a "rainbow baby", or a baby born after loss. I love the simple neutral designs!
The other side of the room features a changing station.
The dresser top folds down to provide a wide diaper changing space, where baby can face toward you, rather than just sideways. Unfortunately, it seems that Ikea is phasing this item out!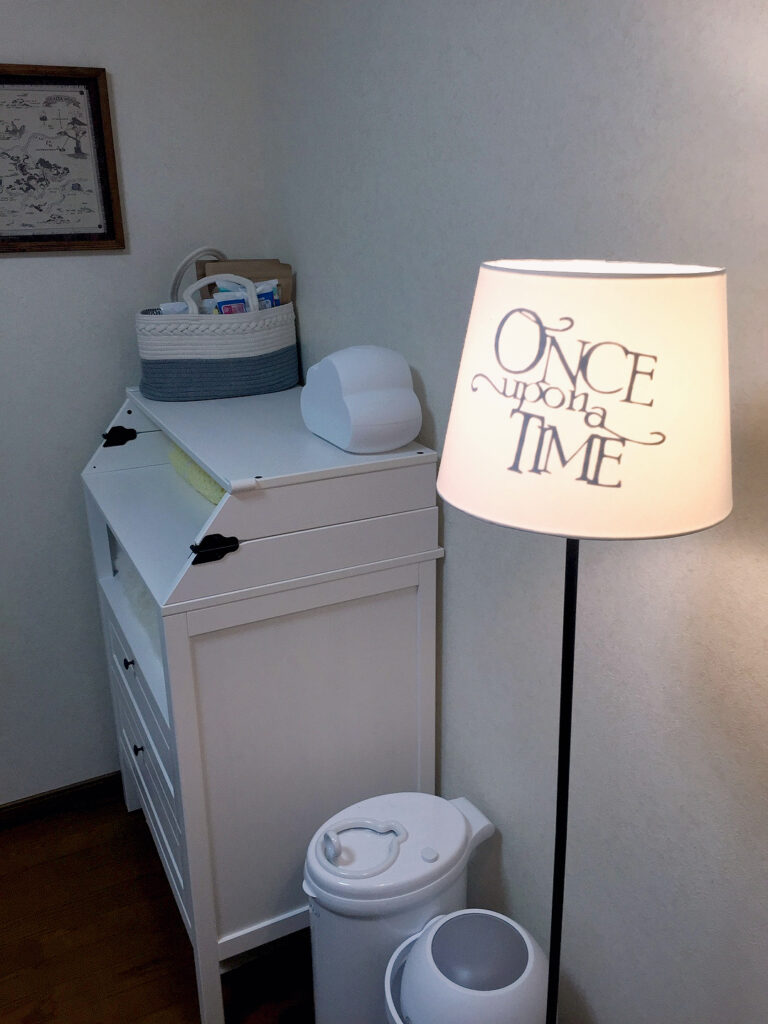 I printed, hand-cut, and pasted the design inside of the lampshade (which I am repurposing from another room). On top of the changing table sits a cloud-shaped humidifier, as well as a portable diaper caddy.
There are two trash cans as one will be used for cloth diaper laundry, while the other will be for trash such as used wipes, and disposable diapers during the newborn stage.
Above the changing table is an artwork piece I picked up from a small shop in a mall during my last visit to the U.S. I love bringing home artwork when traveling!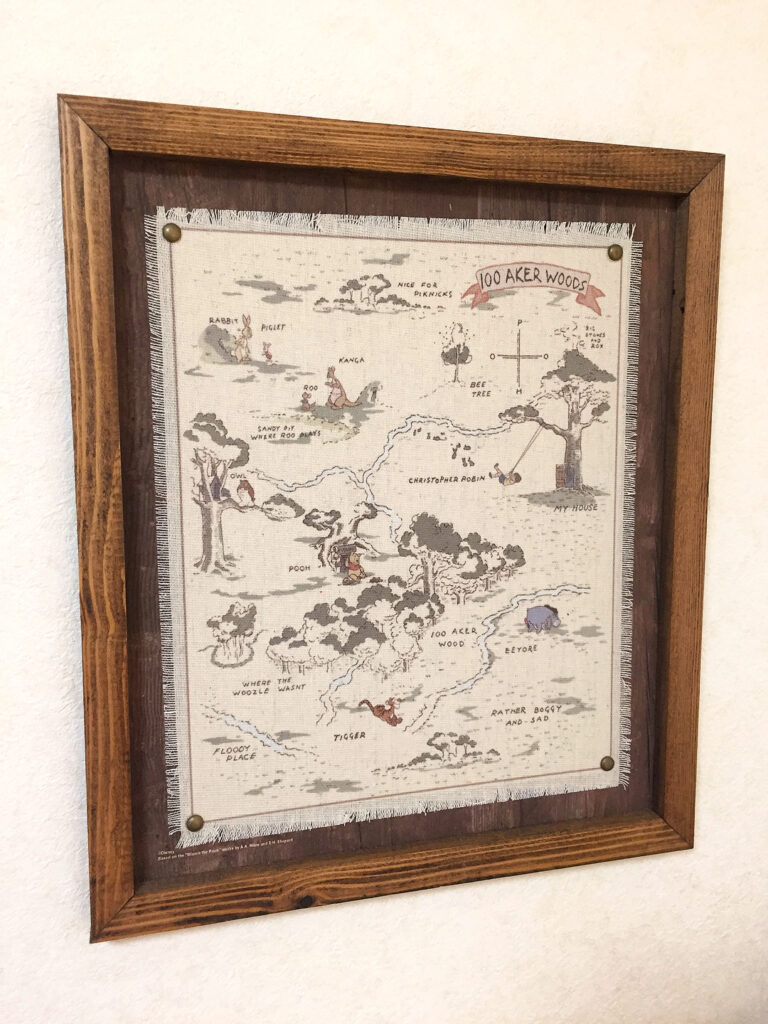 Pooh Bear is one of the few "characters" popular with kids that I love, and the design fits great with the classic nursery theme!
On the other side of the room is the crib and wardrobe, pictured below.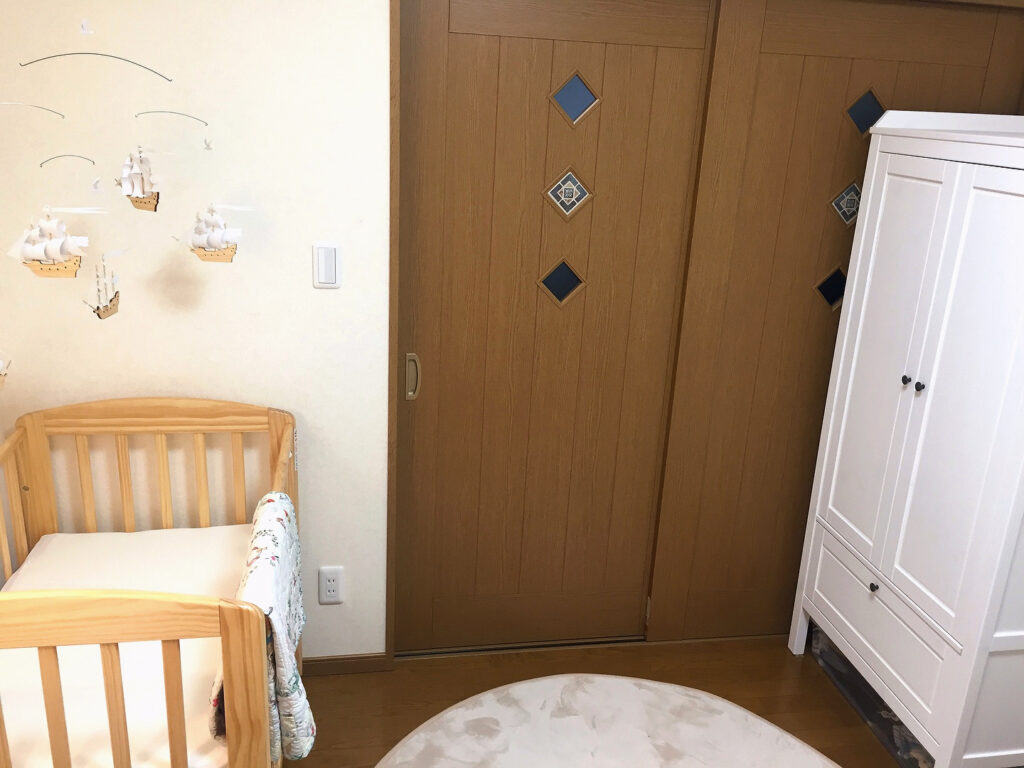 Over the side of the crib rests a Peter Rabbit-themed quilt (Peter Rabbit is another of my favorite characters!), and above it a beautiful ship-themed mobile.
It was really hard to find a mobile I liked, as again.. most of them tend to be very cartoony, or not gender-neutral!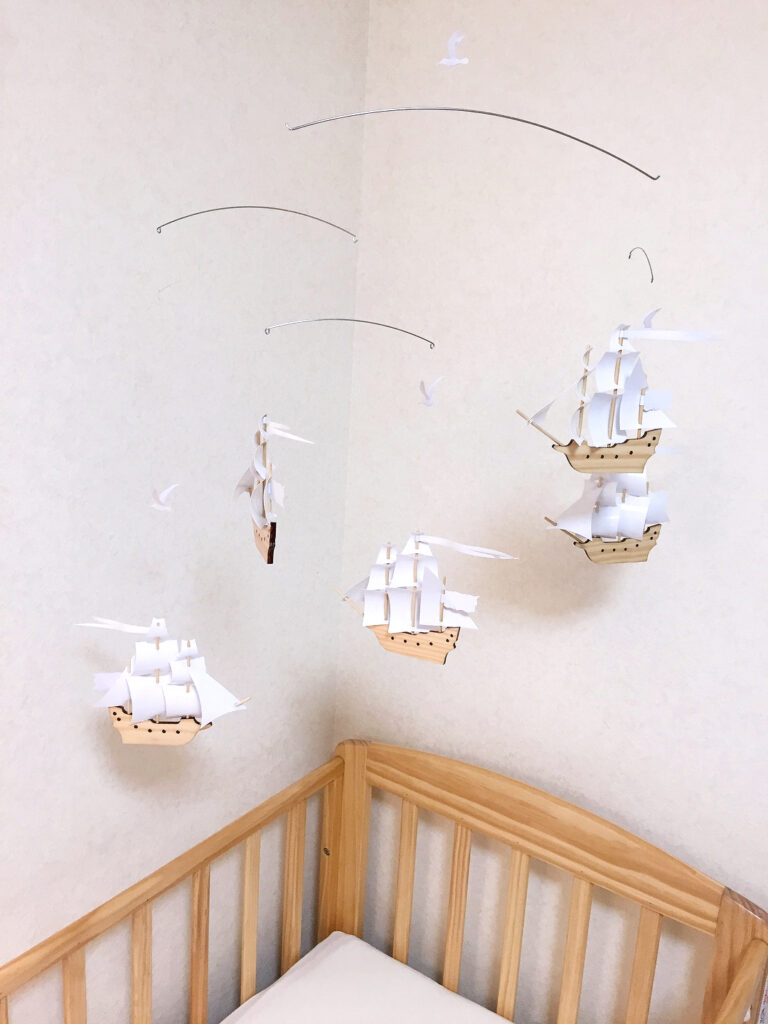 This one is simple, whimsical, and uses natural materials.
We sprayed it with child-safe sealant to reduce the risk of it becoming moldy, as Japan has a very humid climate during the summer months.
The center of the room features a soft beige carpet.
It is flanked by a footstool (which can also be used as an additional chair), as well as a wooden rocking horse.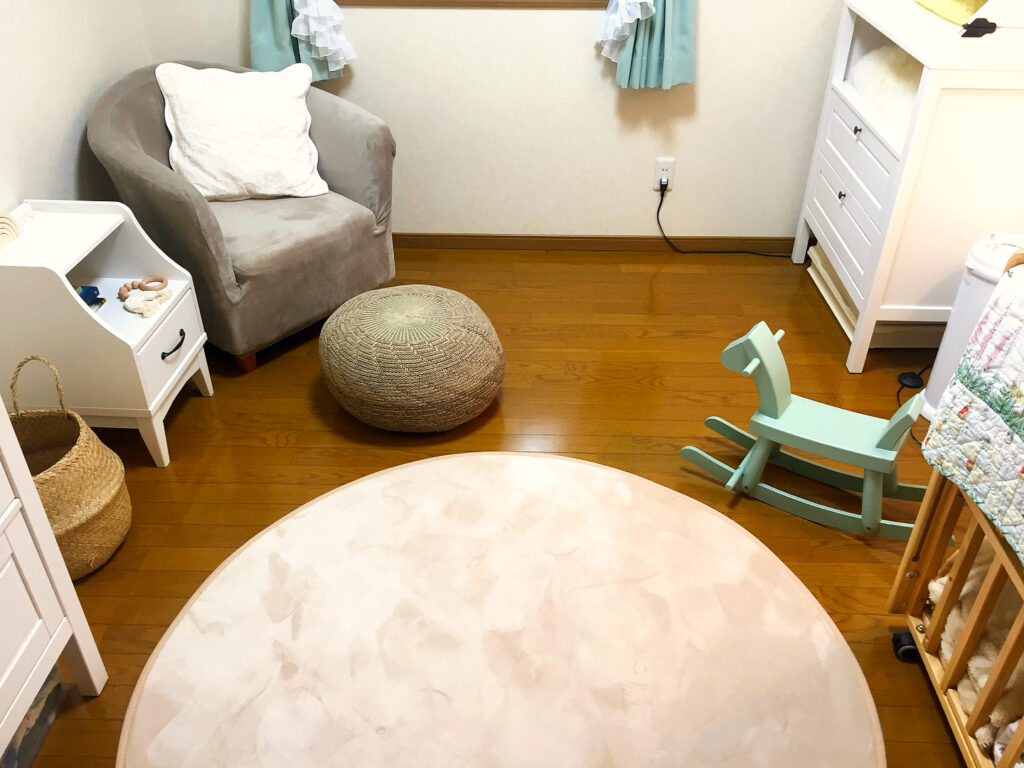 We purchased the rocking horse at a secondhand shop at a very low price.
With a 5$ or so can of paint, it looks nearly new.. and by chance, the "sage" colored paint is almost identical to the curtains!!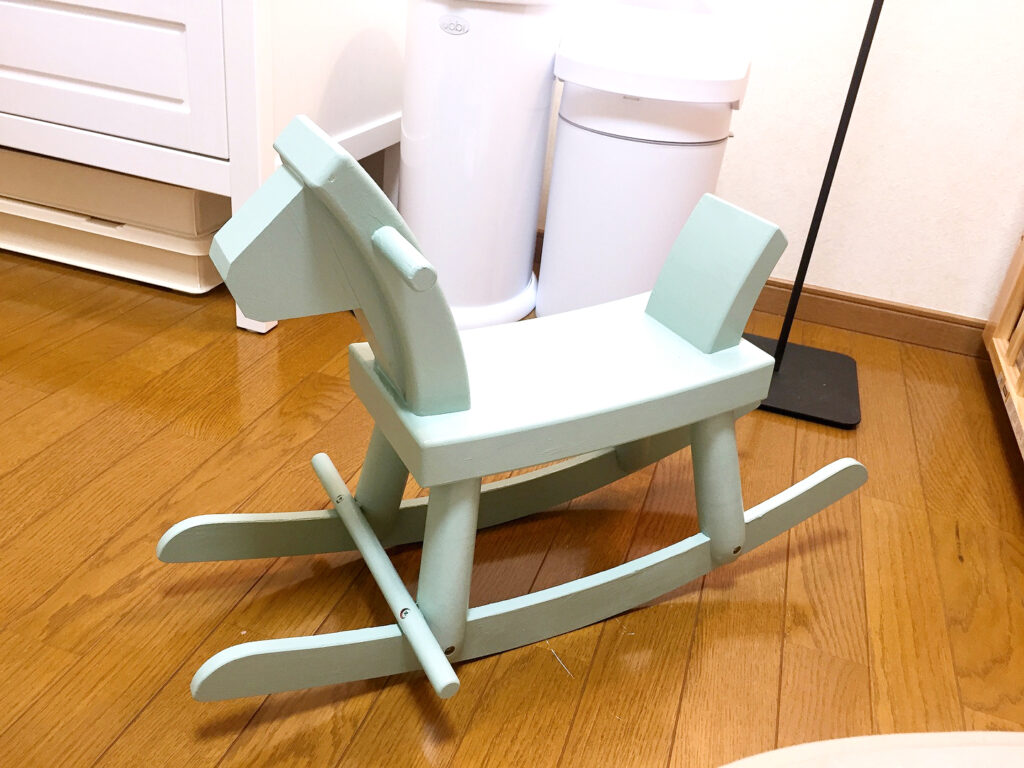 Isn't it cute?! (Ignore the slight bit of paint on the floor that I have yet to remove, haha..)
Speaking of curtains.. when we started furnishing this room, it had just an empty window, so the hunt for the perfect curtains began!
I am picky about colors, so it took visiting many shops before finding something that I liked that was still in our price range. I ended up choosing the same inner curtains that I use for my business.
Just as I was about to give up finding good outer curtains, I found the EXACT shade of sage that I love (plus, they are blackout curtains!!). Depending on the lighting and time of day, they look a bit blue, or more green.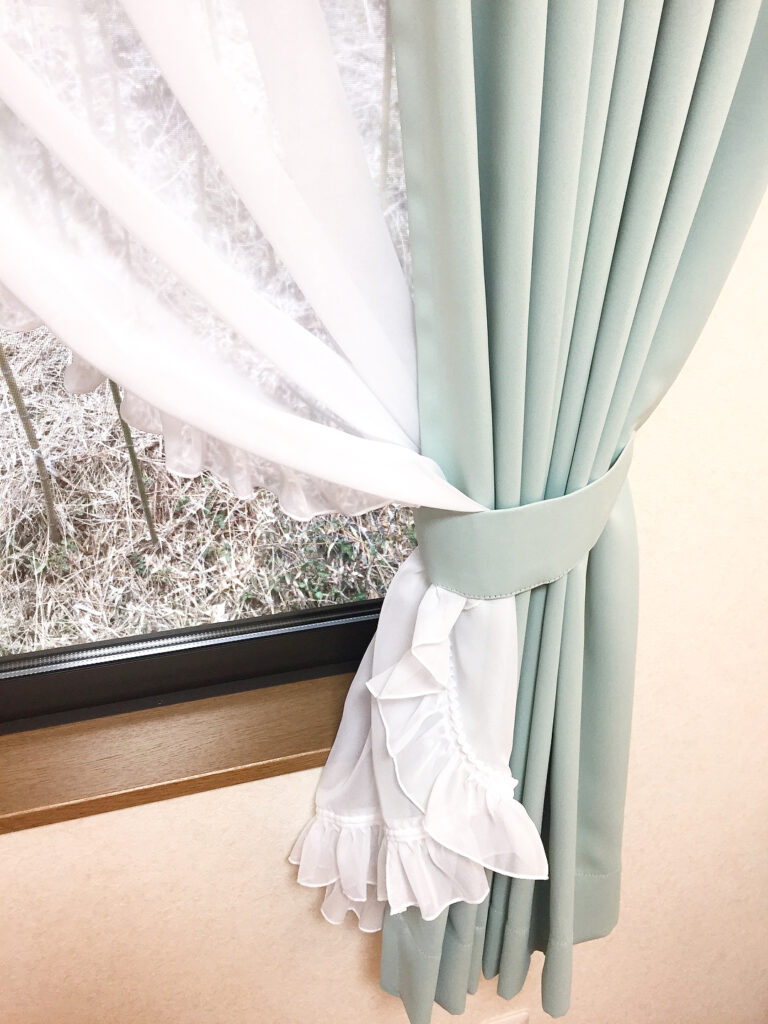 Last, but not least, I love the shelving accent on the wall (seen also in the header image of this post).
The decorative fabric flags actually serve to cover some spackle marks on the wall from a few repaired holes. There are always creative ways to cover up imperfections in a room!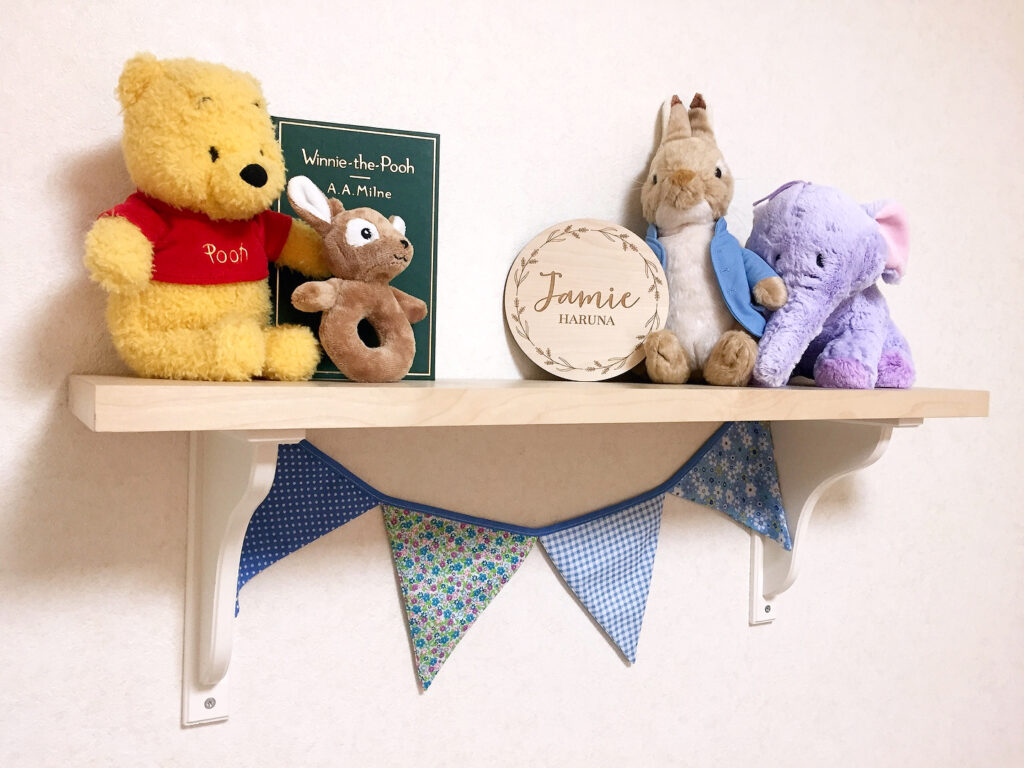 The shelf features a few of my favorite stuffed animals (a Pooh and elephant from Tokyo Disney, a Peter Rabbit from a secondhand shop, and a deer rattle I bought in the U.S.).
Putting up this shelf was a challenge!! We learned that some houses in Japan have studs that run horizontal vs. vertical inside the wall, so you have to find the horizontal studs using magnets to attach the shelving safely.
Thus the first few mistaken holes in the wall and subsequent spackle!!
---
And that completes the nursery tour!!
I'm so excited to welcome home our baby boy within the next few weeks.
Have you put together a nursery in your home?
If so, feel free to share a link to your blog article below!
Photo credits: (c) theharunafamily.com
---
To read more about pregnancy in Japan, check out these articles:
We're Expecting! – Pregnancy in Japan
Japan's Pregnancy Freebies: A How-To Guide
Maternity Clothes: Best Brands