Overseas travel looks NOTHING like it did a few years ago. My husband and I are both seasoned travelers, having been to a combined total of more than 10 countries.
However due to the continually changing travel guidelines, under the pandemic that has stretched on for over 2 years, overseas travel has become a completely new experience.
There are still long queues, longer flights, and an array of pre-flight preparations to consider. Add to this extra regulations, unbelievable layovers, and the wildly unexpected, and you have today's travel experience.
While single or married this might present its challenges, but add to the mix an infant, and everything has the potential to become just a little more overwhelming!
While traveling overseas with a baby does require more careful planning, it is manageable if you are willing to be flexible (and can deal with the possibility of temporary sleep deprivation – which most parents of infants are experts at already!).
Our most recent travels overseas took over 20.5 hours of flights and layovers from Japan to the U.S., and over 34.5 hours on return (that is not counting driving to and from the airports both ways!).
Based on our overseas travel experience, here are our tips for traveling with an infant overseas.
---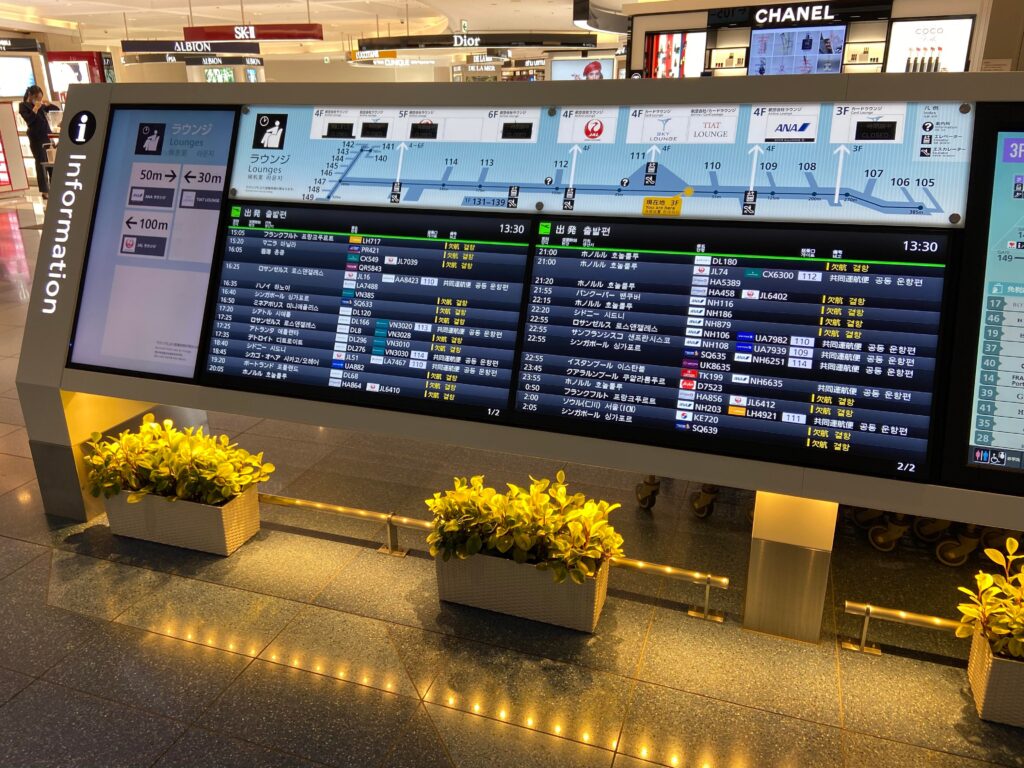 Booking Tips
To have a smooth travel experience with an infant, it is not in your best interest to wing it. Preparation is a must!
Before you even begin packing, there are some ways that you can make your travels easier. First, choose bulkhead seats when you make your flight bookings! Even if you are unable to reserve bulkhead seats, you may be able to negotiate for better seating before your flight.
Next, make sure to reserve a bassinet! Bassinets can usually be used for babies up to around 10kg of weight, and are free to use, but are available on a first-come, first-serve basis.
You can usually make a bassinet reservation up to 24 hours before you fly, and the bassinet can be placed on the bulkhead wall in front of your seats after takeoff. Bulkhead seats are also the best, since they offer the most leg room!
Some flights offer baby meals, so inquire about food reservations! If baby food is unavailable, you can bring items such as cans of baby food onboard (just be sure to check the requirements for your individual flight). None of our flights offered baby meals due to Covid restrictions, but this depends on your airline carrier.
Lastly, double-check the baggage allowance for all of your flights! You may be allowed extra baggage for your baby via some carriers, or not through others.
How much luggage you are allowed may also depend on how much you paid for your infant ticket (some airlines do not charge extra for babies under 2 years that sit in your lap, while others charge 10% of an adult fare, or more if you want your baby to have their own seat).
We were told different things by different airlines staff – some said we would have to pay extra for some luggage, which turned out not to be true! So don't be afraid to double-check if you are unsure.
Make sure to call and inform ALL of your card companies that you plan to travel, and if possible, increase your monthly spending limit for emergencies. If you have a flight cancellation, you may have to rebook before the refund comes through on your canceled flight(s). In that case, having multiple financial options is a must for safety reasons.
E.g. even if you have ample funds in the bank, it may not be possible to rebook tickets if you have already used your monthly withdraw limit on one card.
Lastly, be prepared for things to not always "go as planned".
This is always the case with international travel, but more so now than ever!! Our flights were canceled multiple times, including the night before we were supposed to fly. Have back-up plans, and bring a laptop to make last-minute rebooking less stressful! Choose flexible, refundable ticket options.
---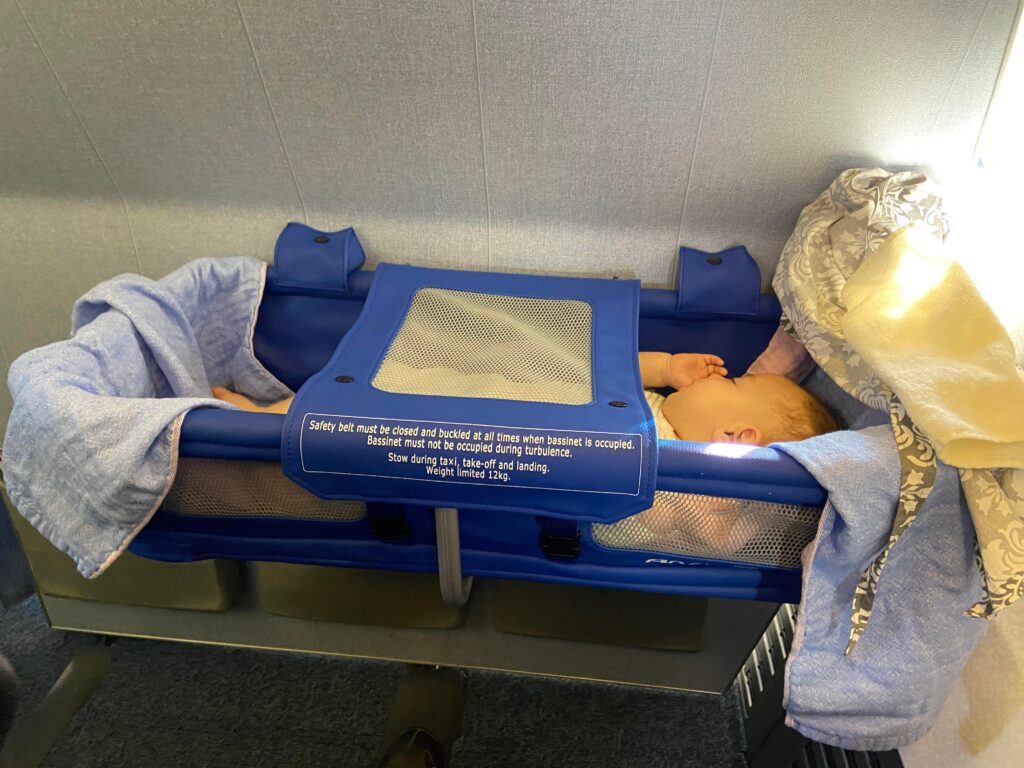 What to Bring Onboard
Paperwork and passports: with ever-changing travel guidelines, you will want to research what paperwork you are required to bring to deplane in your destination country! If your child is a dual citizen like ours, you will also need to pack both passports for exit and reentry.
A breastfeeding cover: you can breastfeed onboard, so make sure to bring a nursing cover if you prefer! Breastfeeding during takeoff and landing can also help baby's ears adjust to the difference in air pressure.
Snacks and baby food: snacks can be a helpful distraction when baby is fussy! Most flights also allow you to bring baby food and formula. Check with your airline about their specific rules. You may also want to pack a bib!
Toys: toys are a must for long flights!! Bringing a variety of cloth books, teethers, and other quiet toys is crucial for active babies! Some airlines may also offer free toys to small children, such as an inflatable airplane or coloring book. We brought toys that were our son's favorites, as well as some new toys such as a busy-board to grab his attention, and some items that were not necessarily "toys", but were lightweight and that he would enjoy playing with, such as a silk scarf.
Toy clip(s): attaching toys to your infant's clothing or bassinet can help reduce time spent searching for toys on the floor. You can also attach toys to a baby stroller as entertainment during layovers.
Diaper supplies: although we usually use cloth diapers, disposables are the way to go on long-haul flights! We doubled-up by putting waterproof diaper covers OVER the disposable diapers to reduce leaks. Make sure to pack MORE diapers and wipes than you anticipate needing! In addition, ask flight attendants which bathroom offers the most spacious fold-out changing tables.
Extra outfits for you and baby: in case of spit-up or diaper leaks, extra outfits are a must! It is also smart to bring extra layers for baby, in case the plane is drafty.
Small hand towels: for catching spit-up and cleaning up messes. You may be able to ask for towels from flight attendants, but it is handy to have a few on hand, especially for airport transfers!
A baby blanket: if your are able to reserve a bassinet, you will also likely be offered free baby blankets. However, packing an extra blanket or two to block out sun or in the case that a bassinet is unavailable can make things easier. You can also use a baby blanket to create a play area in airport waiting rooms, if necessary.
A baby carrier: for long flights, bringing a baby carrier can be very helpful! When our son was fussy, my husband could carry him up and down the aisles. It can also assist contact napping if you are too tired to hold baby with your arms.
Medicine: long flights with little sleep can bring on headaches, so we recommend bringing headache medicine such as Tylenol! My husband also wishes that he had taken his motion sickness medicine, as some of our flights had turbulence.
---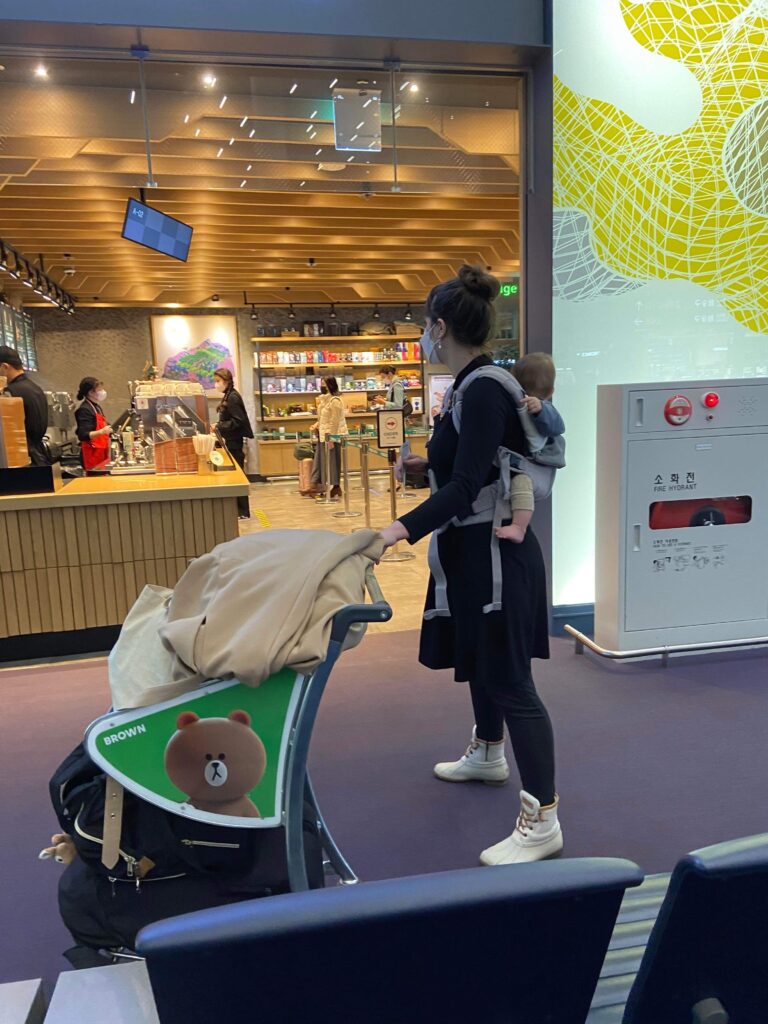 Luggage Tips
If you are like us, you may tend to be luggage heavy during return travel. Finding ways to bring suitcases home without paying extra fees and reduce hand luggage during layovers can be essential! Here are our tips for making luggage heavy returns less painful:
Sometimes a packed plane will offer to check a bag for free.. if so, take advantage of this!! We were able to reduce our hand luggage by checking one bag this way.
My husband wore cargo pants on the return home and stuffed his pockets with various items! It did slow us down at security when he had to empty them out, but reduced our overall weight limit!
Wear heavier outfits on the return trip! We wore heavier clothes and our heaviest shoes on the return leg of the trip. If you wear layers such as coats or sweaters, you can remove them later on the plane.
Tie items to (carry on) bag handles. For example, clip toys to a diaper bag, or tie a scarf to a handle.
Use softer suitcases. Harder bags might be more protective, but are overall heavier!
If you check an infant carseat (you can normally do this for free), use a carseat carrier bag.. and load extra items in the bag wrapped around the carseat as a protective buffer, such as spare clothing! We did this with baby blankets.
Put heavier items such as books in the carry on vs. in checked bags. Carry on luggage is often not weighed (if they weigh it, you do risk having to pay extra fees.. so try this at your own risk!).
To reduce hauling a lot of heavy items by hand, before flying request a baby stroller to be brought to the gate and load this up with baby and/or luggage. You can also often find carts after the security gate and use these to bring your carry on bags.
Bring a soft tote bag inside of your carry-on luggage. That way, if a bag is heavy, you can redistribute the weight after you get through security to make carrying less cumbersome.
---
Timing Naps
When traveling to and from airports, it is in your best interest to try to time driving with baby's regular nap schedule, if at all possible! You can drape a breathable nursing cover over a carseat to help block out light while baby naps.
The international airport in Osaka is quite far from our home in the countryside, but thankfully we were able to do most of the driving to/from the airport during times that our son was sleepy. This eliminated a lot of potential fussing!
We did not try to time naps during flights, but instead observed our son's cues. He slept nearly the whole way to the U.S., but was wide awake for much of the return flight to Japan.
In the airports, our son contact-napped in our arms, or slept in his carrier.
---
Getting Help
The return flight to Japan was exhausting because Masashi was motion sick nearly the whole way, and unable to help with caring for our son. In addition, the airline dimmed the lights to encourage passengers to sleep, while my son had other plans!
Singlehandedly keeping a baby quiet and entertained for 12 hours can sound like a seemingly impossible feat, especially when you are sleep deprived!!
Despite the struggle, it is important to remember that you are NOT alone. Although not all of the staff on our flights were helpful, some of them made a huge difference: making conversation, entertaining baby, offering to bring coffee (!!), checking that my sleeping son didn't climb out of the bassinet so I could take a nap, and so on.
If you are struggling, don't be afraid to reach out and ask a flight attendant for assistance – many (though admittedly not all) of them are happy to help!
On one of our flights a mother who was a member of the military and her baby traveled alone, and the flight attendants also did a great job of assisting her!
---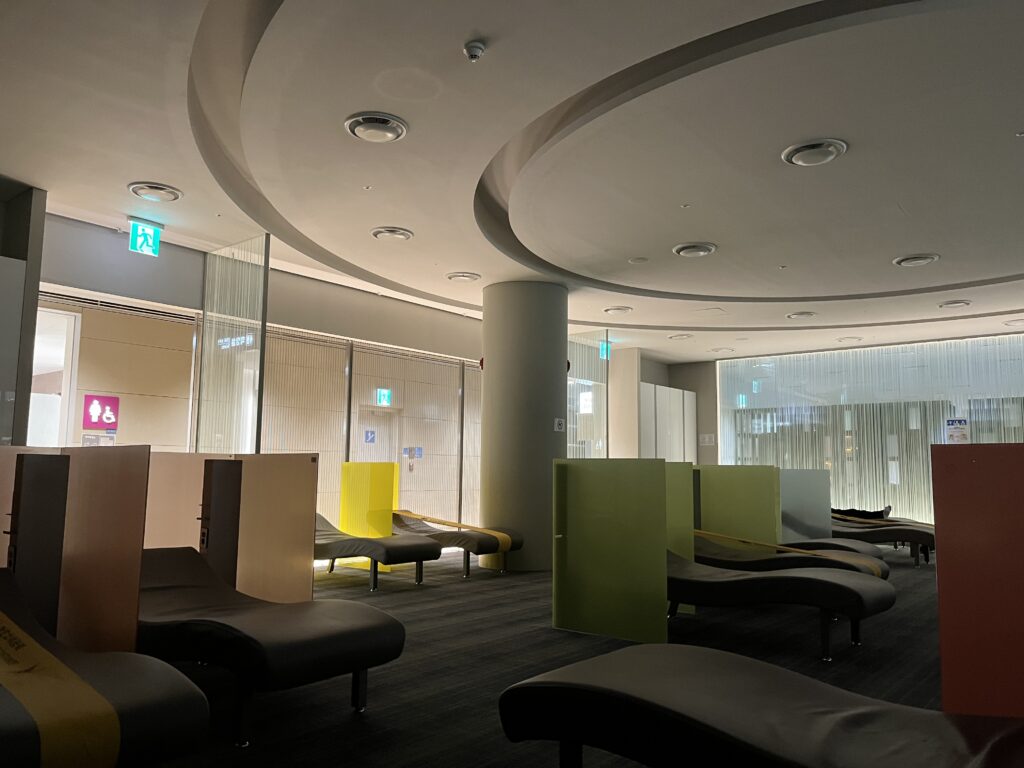 Tackling Layovers
Layovers were MUCH easier than we expected with an infant. That is not to say that they were without any challenges.. but our son was more adaptable than we expected!
Our first layover occurred before we left Japan. We spent nearly 8 hours inside of an airport, and it was a breeze! The time went by quickly with diaper changes, walks, playtime on benches, and eating at a restaurant inside of security.
It felt no different than any other urban outing, except for the fact that we were touting around so much stuff! Here the most important thing was our mindset: embracing the fact that we were spending a "day at the airport", and investigating the shops, the art, and whatever was available.
Our second layover on the return home (over 17 hours in Seoul Incheon) proved to be more challenging. This was an overnight layover, which meant that there was no escaping some boredom, as well as the difficulty of how to sleep.
Thankfully, Seoul Incheon is a huge airport that gets many overnight layovers, so there are ample facilities to walk and visit, including coffee shops and shopping venues.
There is even a hotel past security inside of the airport, but it was fully booked – so instead, we opted to use the free "napzone" pictured above, which was almost completely empty. Surprisingly, our son slept quite well despite the surroundings, and Masashi and I got a reasonable night's rest.. much better than expected in such unusual circumstances!
The key to overcoming such a long layover was to take things slowly – enjoy the indoor sights, go on leisurely walks, buy food at the convenience store and cafe, and accept that rushing would not make the time pass more quickly.
---
Timezone Changes
Babies can be adaptable! During most of our travels, we didn't worry too much about the clock or a schedule with our son. Instead, we observed if he was hungry or tired and made adjustments as needed.
Our son was more fussy at first during timezone changes (especially immediately after deplaning from long flights), but this quickly faded with some rest.
The jet-lag (or rather, the lack of sleep) was probably much harder on Masashi and I than the baby – and although I usually shy away from caffeine, I found coffee very helpful under the circumstances!
---
An Adventure
It is easy to focus only on the negative.. the long hours, the fussiness, and the arms full of luggage. At the time, the hours can seem to drag on.. Yes, it's hard. But is it worth it? For us – absolutely.
The hours may be long, but it certainly puts things into perspective thinking about what overseas travel was like for our ancestors. How amazing it is that we can travel across the ocean in a day or less?!
Traveling overseas with an infant is not easy – but it is an exhausting, amazing adventure certain to be full of memories, challenges, and the unexpected. And we hope these tips will make your trips easier and more enjoyable!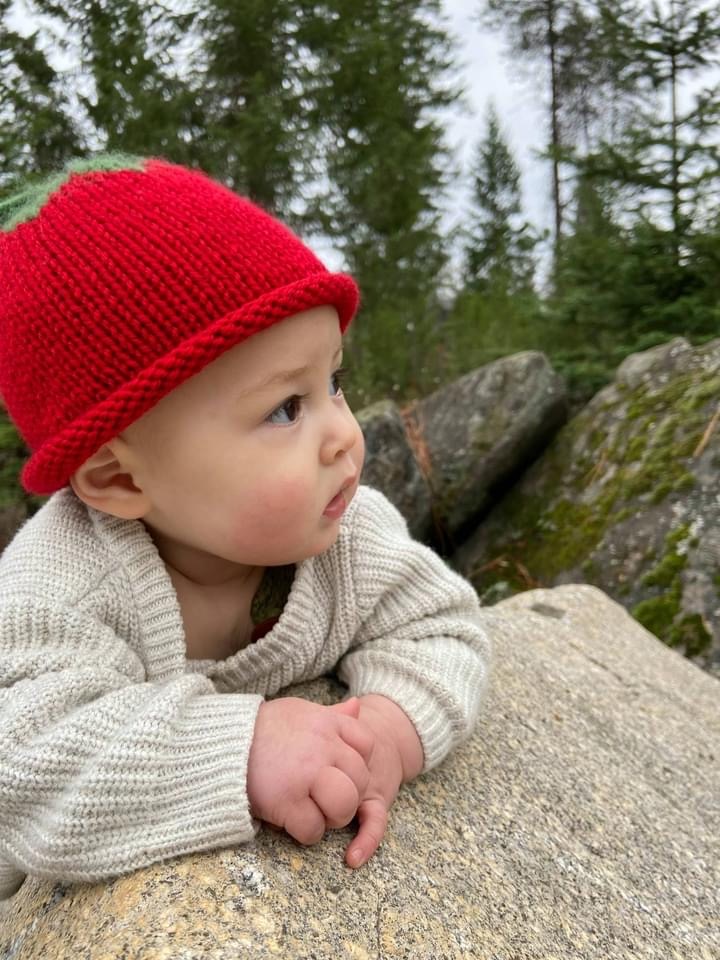 ---
If you have been on a long-haul flight with an infant, feel free to share your tips!
Or, if you have upcoming travel planned, let us know your questions in the comments section below!
Photo credits: (c) theharunafamily.com
---