In honor of our 5th wedding anniversary on July 30th, it seems like the perfect opportunity to share our love story with our readers!
The post below was originally written in February 2017, and appeared at a previous blog that is no longer in use. The title then was "Raindrops and Shared Umbrellas: On an anniversary and the story of a year's happiness".
Now firmly out of "newlywed" territory, I can say that marrying Masashi is something I would choose again and again a thousand times, and all of the challenges we have faced together have made our marriage even stronger and more beautiful than it was in the beginning.
Our love story is no longer just a story of a year's happiness, but five years of numerous experiences and emotions, sickness and health, grounded firmly in love.
I enjoy revisiting what it was like at the beginning, and am thankful for how God brought us together.
To reminisce with us, please read below!
---
A week ago (on January 29th), I celebrated a one year anniversary with my husband, Masashi. The date does not signify our wedding anniversary, but rather a year since we've been together as a couple.
On a rainy day much like this afternoon, a young man offered me his umbrella, and more significantly, offered to "start a relationship with marriage in mind".
I had made his acquaintance through choir at a church in Tokyo, but to be honest, at first I didn't notice him much. However, that same year our choir held a retreat, and we both attended. 
One early morning during the retreat, I went walking in the forest with a friend, and we heard a strong voice. Who could be singing at such an hour?! I thought.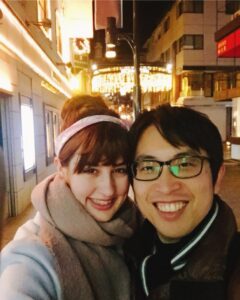 We followed the sound to an empty chapel, and found someone with his back turned to the entrance, playing the piano and singing what I later learned was a song he had written himself. When he became aware of our presence, he was surprised but friendly. He offered for the three of us to sing and pray together.
Up to this point, I thought he seemed a unique person with a strong faith and heart.
Fast-forward a few months, and I grew more and more certain of his character, kindness, and deep faith. While he wasn't the sort of guy I would have noticed initially, I also began to consider him in a different light.
Later, after attending a concert in an African cafe in which he performed, I became more positive – I wanted to marry a man like him. In fact, if possible, I wanted to marry him.
He was humble but bold, prayerful and calm, but also comedic and joyful.
I did not say anything to him about my feelings, nor give him any signs, because I was sure that it would not be reciprocated. I didn't think he had any feelings toward me! However, our friendship progressed, and at his suggestion, we started meeting to talk about our ideas related to music and drama ministry.
The more we discussed, the more obvious it became that we shared similar visions for the future. I also started praying specifically about him.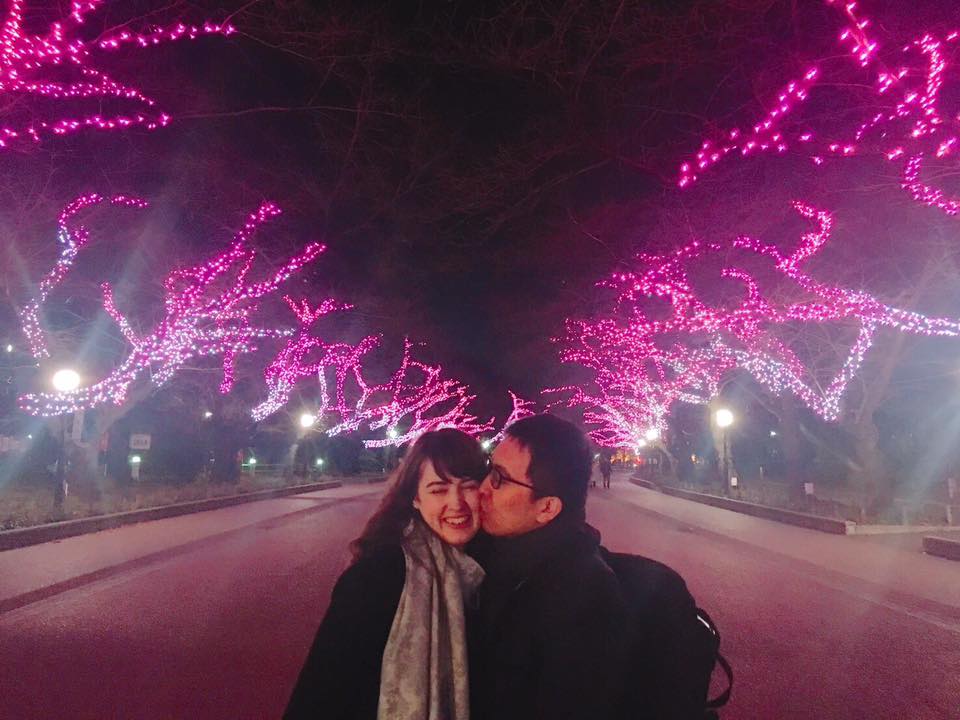 However, that rainy day in January still caught me off guard, when after one of these meetings, Masashi offered to walk me to Ueno train station, beneath his umbrella. At the station, he said a usual goodbye, but stopped me before I could enter the underground ticket gate.
It was then that he asked whether I would be interested in starting a relationship with the idea of marriage in mind- and I said yes.
I said yes again a few months later when he, a man of his word, proposed marriage – and yes a third time and almost half a year after becoming engaged, when we married.
It is incredibly hard to believe that all of this could have happened in just a year – but, God's timing is something which I will never comprehend.
No two love stories are the same, and ours was fast-paced compared to most, but has been very blessed.
Central to our story has been God's love, and the power of His love to bring two people together.
Neither of us anticipated that we would be married at this time, but it seems as if marriage found us.
While one year together by no means makes us experts on relationships or marriage, we also hope that our story can be a testimony of God's love.
Three things will last forever—faith, hope, and love—and the greatest of these is love.
– 1 Corinthians 13:13
---
Do you have an international love story to share?
Please leave a comment or blog link below!
Photo credits: (c) theharunafamily.com