Now that I am nearing week 27 and have almost hit the third trimester, there is no hiding my baby bump! As a result, I invested in multiple maternity and nursing-friendly wardrobe pieces.
However, it has not always been easy to find clothes that fit my body in Japan! I have tried out a variety of different brands in the search for the best maternity clothes, and made purchases in-store, as well as on the internet and from overseas.
It is also crazy to me just how expensive maternity clothes tend to be in Japan, so if you are pregnant, it's helpful to have a good idea of what brands work well for immigrants with bigger or more shapely bodies.
That being said, I feel that price is sometimes less important than quality!!
I like creating a sustainable wardrobe, but I have also made the mistake of purchasing "affordable" items, just to find that they started falling apart. If you do not desire many pregnancies, you may not mind purchasing lower quality clothes, but since we are hoping to (God-willing) have a large family, I would rather invest in quality clothing than pieces that will have to be thrown out quickly.
Following are some of my favorite local and overseas brands and maternity items so far. If you are pregnant, I hope that this list of recommendations will make your wardrobe search much easier!
Please note: this blog post uses affiliate links and may earn a commission from certain links. This does not affect your purchases or the price you may pay.
---
Best Sweater Dress: Milk Tea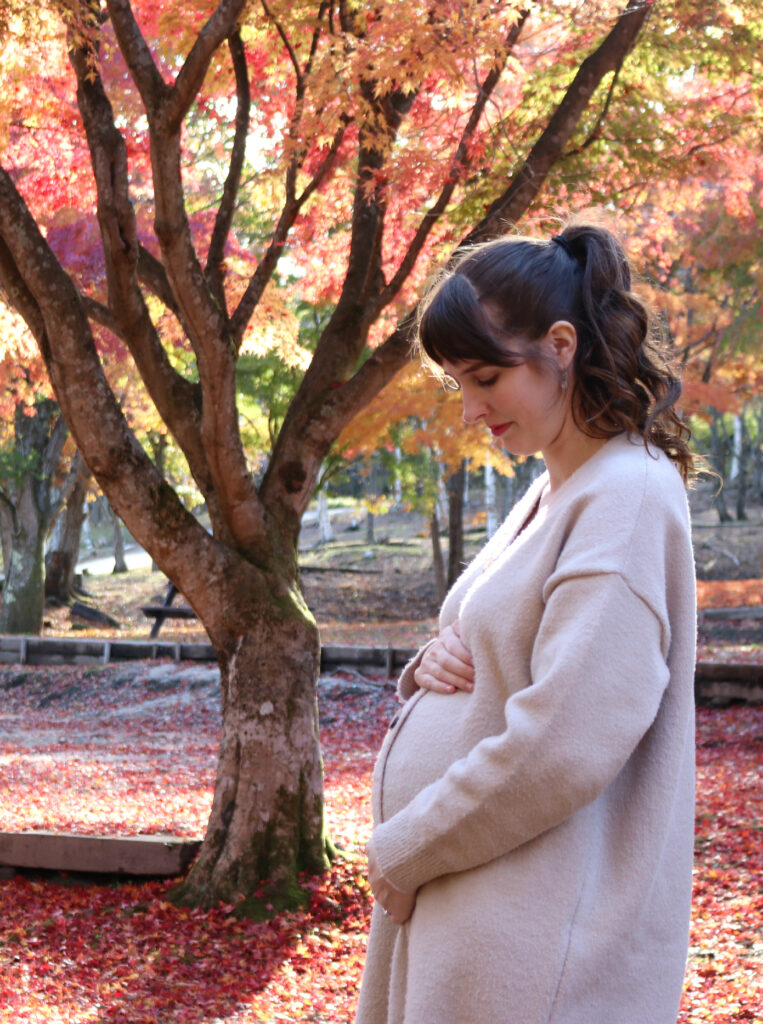 We live in the mountains, so the autumns and winters can be quite chilly!!
One of my favorite wardrobe pieces to wear during the autumn through early spring is sweater dresses.
The one in the photo to the left was purchased through Milk Tea.
Milk Tea products are available in various stores, and through both Amazon and Rakuten.
My husband is a member of the Rakuten point club, so we were able to purchase this dress for free, using some of the points he had saved up through the site!
---
Best Jeans & Semi-Formal Dresses: Seraphine
I started wearing maternity jeans from the first trimester, since bloating made wearing regular jeans uncomfortable. I bought a pair from Aeon TopValu, but the pants quickly started pilling, and the elastic stitching became weak. The fit was also not great (a bit short, and later didn't cover my bump sufficiently).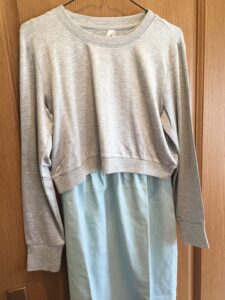 So, I decided to invest in a quality pair of maternity jeans. The jeans I purchased through Seraphine (a U.K. brand) were one of the BEST maternity purchases that I made during this pregnancy so far.
The pants (see here) are extremely comfortable, to the point that I wish they made non-maternity jeans as well (they do make compression pants for postpartum)!! Note: the pants fit looser than pictured on the model at the site..
Seraphine also offers a lot of beautiful formal and casual dresses, as well as postpartum and skin-to-skin wear. The dress prices seem pretty average compared to what you will find at Japanese stores. I bought the dress on the left when it was on sale, which can be used for both maternity and nursing.
Seraphine does tend to be expensive, but less so during online sales. However, despite the price tag, the quality is high compared with more inexpensive brands, so it is a good brand for purchasing long-term-use "investment" pieces.
In addition to selling through their website, some Seraphine items are also available through Amazon.
---
Best Loungewear / Nightgowns: Angeliebe
The Japanese brand Angeliebe can vary anywhere from very affordable to somewhat expensive. I especially like their loungewear and nightgowns.
They offer a huge selection of items that is worth browsing!
I purchased the loungewear dress / nightgown pictured on the right, and love it! Most of Angeliebe's loungewear and pajamas can be used for both maternity and nursing.
I bought one without sleeves so that I can use it both for winter (with a sweater), as well as in the summer when breastfeeding. It also features pockets, and fits well despite being "free size".
Angeliebe occasionally offers online sales, for as much as 50% off!
However, you get what you pay for, so be aware that the quality level of the clothing offered at their site can vary between very high to just average.
---
Best Over-The-Bump Underwear: Angeliebe
Angeliebe wins again, this time for best over-the-bump underwear! I tried several different brands of maternity underwear, but in my opinion Angeliebe was the best by far.
I found that even most L/LL size maternity underwear in Japan was TOO TIGHT, and literally left marks on my legs where I felt like my circulation was being cut off (for reference, I would be a U.S. size M). Also, other brands were too constricting of my baby bump, and left marks on my stomach.
Angeliebe over-the-bump underwear is super comfortable, beautiful, and soft.. and since it covers my bump well, it looks smooth underneath maternity jeans and dresses, rather than having weird lines. My favorite style is available (here) through Rakuten, however Angeliebe also offers many other styles of maternity and postpartum underwear (here).
---
Best Swimsuit: Momo Maternity
Throughout this pregnancy, swimming has been one of my main sources of exercise. I love swimming because it is easy on my joints, and greatly reduces back pain.
Thankfully, our rural pool is pretty empty most of the time, so often when we go it is just me and my husband and one or two other people!
Eventually I realized that my swimsuit was starting to get tight, and I began looking for a good maternity suit. Swimsuits are one of the items that I struggle with finding a good fit in Japan!
After some searching, I purchased a swimsuit through the American brand, Momo Maternity (see pictured). This suit is super comfortable, and has allowed plenty of room for my belly to grow during pregnancy so far.
(Side note: I did not buy the suit for this reason, but by coincidence, it appears that Momo Maternity may have been created by a Japanese-American)
---
Best Maternity / Nursing Shirts: Sweet Mommy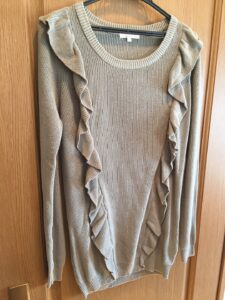 One of my greatest fears with online shopping (other than that something will not fit) is that the material will be more flimsy than it seems in photographs.
However, that is not the case with my purchases through Sweet Mommy! All of the items I have purchased through this Japanese brand have exceeded my expectations.
It should be noted that although Sweet Mommy offers beautiful quality clothing, it often comes at a high price. However, they do offer sales now and then that can make their clothing more affordable!
I especially love that they offer shirts that can double as both maternity and nursing shirts. This one (in light khaki color) is my favorite, and features hidden zippers!
---
Best Over-The-Bump Leggings: Motherhood Maternity
I struggled with finding a good pair of maternity leggings in Japan. I tried many different options, but it always seemed something was wrong: either the leggings were too short, too tight, too sheer, didn't cover my bump well, or were just plain uncomfortable.
Fortunately, I discovered a great pair online through Motherhood Maternity. Motherhood Maternity is an affordable American brand that offers frequent online sales, sometimes even up to 60% off!! Their overseas shipping is also relatively affordable compared with other sites.
I purchased their compression over-the-bump leggings (see here), and wear them almost every day! They are very durable, fit well, and are super comfortable without being too tight. The slight compression also helps with reducing my back pain and having good posture.
---
Best Maternity / Nursing Bra: Wing Maternity
A few years ago, I discovered that maternity bras are a lifesaver for foreign women living in Japan. I don't consider myself especially large-chested, but since moving overseas, I struggled with finding bras that fit comfortably.
That is, until I discovered maternity bras!!
I have been wearing Japanese maternity bras for years now rather than trying to squeeze myself into regular non-maternity sizes, so I have had the opportunity to try multiple brands. My favorite during this pregnancy has been Wing Maternity bras!!
Not only do Wing Maternity bras fit perfectly, but they do not "look" like maternity/nursing bras, they are super soft and comfortable, and easy to adjust if your size increases during pregnancy (or while nursing).
---
Runner-Ups
Belle Maison is a great budget-friendly Japanese brand that offers lovely inner-wear and super affordable maternity outfits! Since so many maternity brands in Japan can be bank-breaking, it's nice to have budget-friendly options available. Belle Maison's maternity bras are also decent quality, though (in my experience) offer less support than some other brands.
Aeon TopValu over-the-bump maternity underwear are a close runner-up for "best maternity underwear". However, do note that some of their underwear tends to run tight! They also make nice loungewear / nightgowns.
---
Do you have any favorite Japanese or overseas maternity brands?
Please leave a comment below!
Photo credits for photos 1-3, 5, and featured cover photo: (c) theharunafamily.com
---
To read more about pregnancy in Japan, check out these articles:
We're Expecting! – Pregnancy in Japan
Japan's Pregnancy Freebies: A How-To Guide