Our beautiful rainbow baby arrived to this world on March 11th!
Our birth experience was different from what we expected, but still overall positive. We chose to give birth at a clinic vs. a hospital, run by the doctor who was the care provider during my entire pregnancy.
The following is our birth story, about what it's like to give birth in Japan and during the COVID pandemic.
---
Our Birth Story
Our birth story actually began before I was even pregnant!
After experiencing 2 miscarriages and going through secondary infertility, we consulted a fertility doctor to investigate whether anything was wrong. The doctor discovered that I had lean PCOS, and conducted a Hysterosalpingogram (HSG test) to help unblock the fallopian tubes as well.
After this, we became pregnant in May 2020. Unfortunately, we lost that baby.. but, just a few weeks later in June I was pregnant again!
Our doctor runs a dual fertility and obstetrics practice, so we decided to continue with him as a provider for the length of the pregnancy, and for the birth.
One of the reasons I decided to give birth at the clinic vs. at a hospital is that I could continue with the same doctor, it was more flexible, and had more care options available.
For example, I chose a labor and delivery room with tatami flooring and a futon, vs. the second option available, which looked like a typical hospital room.
---
I hoped to have a natural, unmedicated, spontaneous labor.
However, things did not go quite as planned!
During the 39th week of pregnancy, I experienced a lot of Braxton Hicks, and had prodromal labor that allowed me to dilate to 1cm.
My water broke early on March 9th, but natural contractions did not kick in within 24 hours, so due to various medical reasons, the doctor scheduled us for an induction.
The first day of the induction I received an IV of prostaglandins to prep the cervix (they only ran the IV during the day, and turned it off at night), and the following day I received an IV of oxytocin.
In Japan, pain medication during labor (such as an epidural) is uncommon/expensive, not covered by insurance, and in most cases completely unavailable.
Personally I desired an unmedicated birth so this was not an issue, but might be shocking to some!
Although they didn't offer pain meds, the clinic had aromatherapy, a CD player, and a balance ball available, all of which I used. They offer foot baths too, although I did not remember to ask for one at the time!
---
Light contractions kicked in around 10:30am on March 11th. The contractions became stronger and closer together, and the last 20 minutes or so of the labor were more intense but manageable, when I jumped from 6cm to 10cm dilated.
By 2:04pm of the same day, our baby boy was born after just 8 minutes of pushing!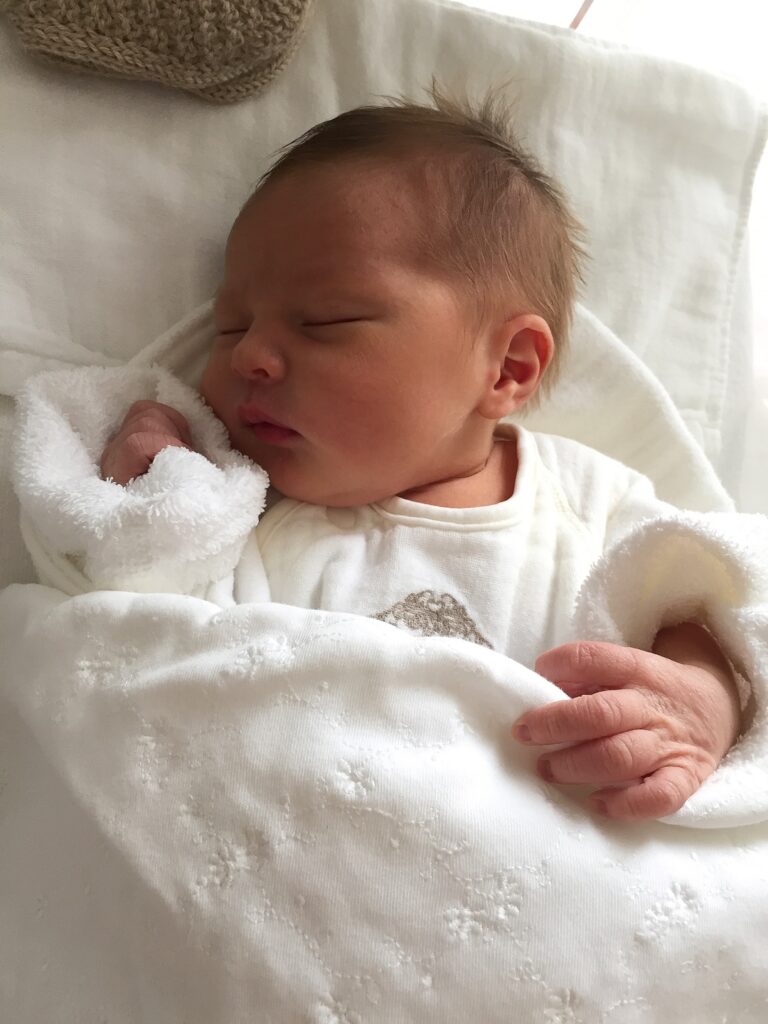 Despite not having the spontaneous labor I'd hoped for and the unexpected changes to our birth plan due to COVID-19 restrictions, the birth was still an overall positive experience.
Although we were "required" to wear masks during the labor, the staff were lenient about this, and since we live very far from the clinic, my husband was allowed to stay overnight when I received the prostaglandins IV.
He had to leave 2hrs after the birth of the baby. If anyone was waiting for the labor and delivery room, we were told he would have had to leave immediately after the birth, but thankfully it was not a very busy day!
He was also not allowed any visitation while I stayed at the clinic due to COVID restrictions. I'm not sure of the logic of this, since he stayed overnight with me in the labor and delivery room, and we were both required to submit negative PCR tests prior to the birth!!
---
Typically, a woman giving birth for the first time in Japan will stay about 4-5 days in the hospital or clinic after giving birth (not counting the day of the birth itself). I was able to negotiate this a bit and leave early.
While I did not enjoy being separated from my husband for so long, on the other hand I cannot imagine having made the (2 hour!!) car ride home any earlier, as I struggled to sit or stand for several days.
Staying at the clinic was exhausting.. I am a light sleeper, and it was a struggle to get any rest. However, the majority of the staff at the clinic were very friendly and kind, and treated patients like queens!
The room I stayed in was also very beautiful, like a fancy hotel room (!!), and the baby stayed in my room in a bassinet. They had a nursery available 24/7, although I only used this when taking a shower, etc.
---
In Japan, giving birth is not considered a "medical illness", so it is not covered under insurance. Delivery on weekends or at night can also be more expensive than giving birth during the day/weekdays.
However, many cities (including ours) offer subsidies that cover most, if not all, of the cost of delivery and the recovery stay.
Giving birth at a hospital is the cheapest option in Japan. Staying at a clinic can be more expensive, and you may have to pay a deposit when registering. However, our stay came with many perks!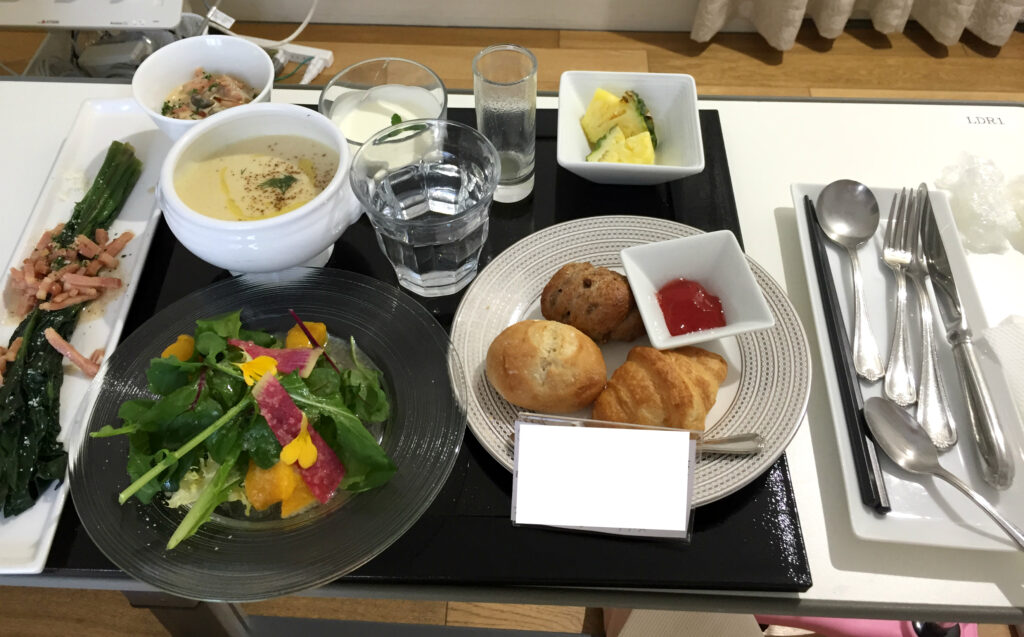 On checking in, I was given a big bag full of items including postpartum pads, Pampers newborn diapers, wipes, and so on.
The cost of stay also included a one hour spa treatment facial and leg massage.. I am now convinced that spa care should be a part of EVERY postpartum stay.. I had never had a professional facial or massage in my life, so it was a special treat!!
Most of the meals offered were amazing, and shampoo, conditioner, soap, sanitizer, clean towels, and non-caffeinated tea and coffee were provided.
A few days after the birth, I was also offered the selection of a complimentary gift (I chose a soft, fluffy blanket with a monogram of the clinic's initials). They also offered a sample of formula, though I refused this as I plan to breastfeed exclusively.
Giving birth at a clinic was an excellent balance between quality medical care and comfort!
Although I had to negotiate about my birth plan, the majority of the time the doctor and nurses were accommodating, and I was impressed at how the medical system here takes care of women postpartum.
Japan is a wonderful place to give birth!
---
Do you have any questions about what it is like to give birth in Japan?
Please leave a comment below!
Photo credits: (c) theharunafamily.com
---
To read more about pregnancy in Japan, check out these articles:
We're Expecting! – Pregnancy in Japan
Japan's Pregnancy Freebies: A How-To Guide
Maternity Clothes: Best Brands